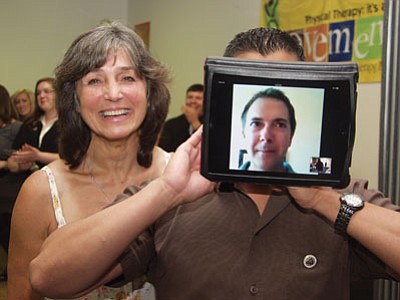 Originally Published: June 10, 2012 6 a.m.
Twenty students, including one with the help of a little technology, were honored recently at a special pinning ceremony marking their completion of the Physical Therapist Assistant Program at Mohave Community College.
John LaDouceur, a Phoenix resident, participated in the ceremony with the help of an iPad and some video software. He was on vacation in Hawaii at the time of the event.
His friend, Gabriel Hernandez, who intends to graduate in the same program next year, sat among the honored guests with the iPad in hand.
"He wanted to be here with his classmates," Hernandez said. "It is a very special night for all of them."
The guest speaker for the pinning ceremony was Dr. Liz Marr, who owns a physical therapy business in Lake Havasu City. Her daughter, Danielle Marr, is among this year's graduates of the program.
The demand for physical therapist assistants is expected to grow by 35 percent between 2008 and 2018, Marr said. She added that physical therapy is quickly becoming more specialized with advanced techniques and greater respect in the health care industry.
"This is not the end of your education," Marr said. "It is only the foundation upon which your future in this profession will grow."
Tauri Beals received the Catherine Fitzgerald Award for outstanding leadership. In addition, Chris Robertson was honored with the Horizon Award, which recognizes active involvement in the profession, school and community.
Other graduates included Shannon Adler, Amy Beckstrom, Cheryl Dameron, Kristie Daniel, Caroyln Earley, Paul Garcia, Stephanie George, Lara Goodell, Lisa Haworth, Scott Horton, Jimmy Howard, Sean Michaels, Kristal Pruett, Ronni Sikes, Melissa Titus and Debbie West.
Program Director Joelle Grossman gave special thanks to the Lake Havasu City chapter of the Mohave Community College Foundation for its support and attendance at the pinning ceremony.
For information about the Physical Therapist Assistant Program at Mohave Community College, contact Grossman at (928) 505-3347.