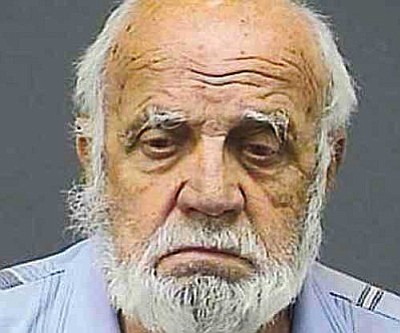 Originally Published: June 13, 2012 6 a.m.
KINGMAN - He won't do any jail time but an 84-year-old man who caused an accident last year on Highway 68 that killed a Golden Valley woman will lose his license.
Irving Poissant's attorney, Alex Bolobonoff, said that revoking his client's driver's license will cause a hardship on the elderly man, who lives in Wikieup and needs to drive in order to survive.
"He can't afford to move to another city," Bolobonoff said.
But Judge Derek Carlisle, who went along with the sentencing recommendation of prosecutors who weren't seeking any jail, said he didn't have much of a choice since all fatal accidents are reviewed for license revocation by the Motor Vehicle Division. Poissant was stopped five miles from the scene where he crashed into the back of a Geo Metro driven by a Golden Valley man on the evening of April 1, 2011. The man's wife, 58-year-old Jill Doty, who was seated in the passenger's seat, died.
No reason was ever given as to what caused the accident or why Poissant drove so far without stopping, but Bolobonoff attempted to explain the man's actions during a sentencing hearing last week. Bolobonoff theorized that it was possible that the Doty's Geo Metro did not have its lights on when it pulled out of the drive near the Sonic Drive-In onto Highway 68 around 7:15 p.m. Without its lights on, Poissant would have had trouble seeing the vehicle at that hour of dusk, he said.
A friend of the Dotys who witnessed the accident and responded to their vehicle told authorities he unbuckled the couple and turned off the car's headlights. Bolobonoff theorized that the witness may not have been telling the truth about the lights being on, "and could have in a sense been assisting the victims in a lawsuit against my client." A civil lawsuit in the case is pending.
"If I had saw it (the car), I would have tried to avoid it or run off the road myself," Poissant said.
As far as not stopping for five miles after the collision, Bolobonoff said Poissant's air bags deployed, causing him to become disoriented and unable to see where he was going.
Carlisle took issue with that line of reasoning, saying that the air bag in his face should have been Poissant's first clue something was wrong,
"You think he would have said, 'Hmmmm. Maybe I should pull over or stop my car to see what happened instead of trying to drive with this air bag in my face,'" he said.
Carlisle called the case troubling but after some explanation agreed to accept the terms of the plea deal in which Poissant pleaded pursuant to Alford - which is similar to a no contest plea - to charges of leaving the scene of an accident.
The plea deal stipulated three years probation for Poissant with no jail or prison time because of his age and health, prosecutors said.