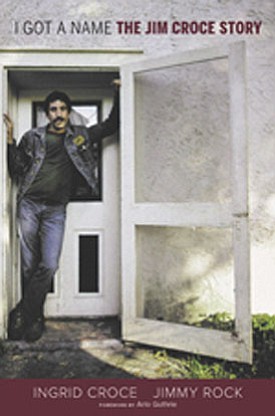 Originally Published: June 17, 2012 6 a.m.
I Got A Name, The Jim Croce Story, by Ingrid Croce and Jimmy Rock; 978-0-306-82121-9; Hardcover; 320 Pages; $25; Published July 2012; Published by Da Capo Press, a Member of the Perseus Books Group
Fame is fleeting, but stopping at the pinnacle of one's career can be devastating.
Ingrid Croce and Jimmy Rock bring the inside story of the rise and fall of a promising career in "I Got A Name, The Jim Croce Story."
Jim Croce died on Sept. 20, 1973 at the age of 30. His music lives on and is classic for the era. Songs such as "Bad Bad Leroy Brown" and "Time in a Bottle" were two of his No. 1 hits as a singer-song writer.
He had the good fortune to have albums hit the charts and rise to gold status. Fans adored him and for the last two years of his life, he was on the road more than at home with his son A.J. Croce and his wife Ingrid.
This was a very moving period for the marriage, but one that seemed to hold promise of being able to sustain if only he could get off the road for a while. His life ended when an airplane that he was on board crashed.
His beginnings were meager at best. Coming from a family which had deep Italian roots in Philadelphia, Jim was the promising star of the family when he attended Villanova University.
However, music was his forte. Jim would play at small clubs, colleges, and any place where he could strum his guitar and sing. Friends gathered around him and encouraged his entertaining.
A strained relationship developed between him and his father. His father wanted Jim to get a job with gainful employment where he could earn a respectable living. Jim decided to pursue a career in writing and performing music.
Ingrid has written a very skillful book that provides an inside scoop on their relationship, and how it was difficult to live with him and to live without him.
During the start of their relationship, the two performed together with Ingrid singing along with Jim. Well accepted was the duo act that entranced audiences with their style.
Insight into his managing by a New York entertainment group sheds light on how strained the relationship between Jim and Ingrid became. Ingrid could see that his trusting demeanor was putting Jim at a disadvantage. Only when they had a child did he finally get the message that money was important. From that point on, he tried to gain more money so that the child and Ingrid would be able to live a decent life.
Young couples seem to have financial problems all the time. However, in this case, Jim was selling many records, playing for a full house during concerts, and traveling from city to city without seeing the fruits of his labors.
Conflict ensued between Ingrid and Jim, but he was always the charmer who could convince Ingrid he would change.
Ingrid describes several incidences, which precipitated the ultimate crash. Jim had been traveling in a private plane and his pilot had some near misses due to weather or misjudgment prior to the tragic crash.
"I Got A Name, The Jim Croce Story," contains funny anecdotes which will make you laugh aloud. Additionally, a tear will come to your eye during some of the emotional scenes. This is a well-written, thought-out and moving story. This 5-star book that includes many lyrics you can hum to as you read them deserves a glance.
Clark Isaacs is an accomplished book critic who published in local newspapers and national book review lists. He is a member of the faculty of Mohave Community College in Kingman. Visit Clark Isaacs at http://clarkisaacs.ning.com.