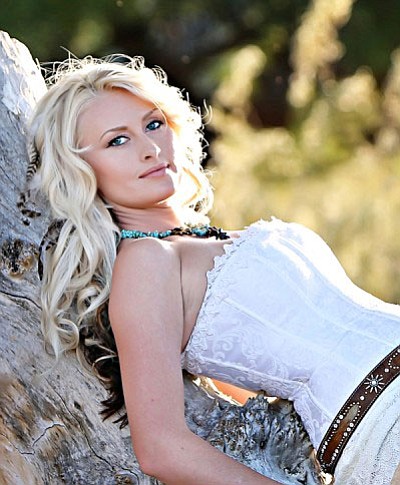 Originally Published: June 19, 2012 6:01 a.m.
KINGMAN - A local woman is among 10 contestants vying for the title of county music superstar during the 31st annual Texaco Country Music Showdown in Laughlin June 28.
The event, billed as the "America's Largest Country Music Talent Search," will be held in the Starview Room at Don Laughlin's Riverside Resort. Residents are encouraged to attend the free show to support Briana Payne, 23, who will compete for a $1,000 cash prize and a chance to advance to a regional competition in the fall.
Payne and her husband, Skip, live in Yucca and operate the Old Trails Feed and Western Store, but spend the majority of their time in Kingman, where Skip works for Brackett Aircraft and Custom Aluminum Radiators at the Kingman Airport. Payne said that she's always sang songs to herself, but it was only at her wedding when she sang a song to her new husband that she had the confidence to sing in public.
"All my friends and family asked me why I never sang before," she said. "It was very nerve wracking. But I was proud of myself for having the guts to do it."
The more she sang, the more her confidence grew, she said, and she's not afraid of singing for a crowd.
"I don't mind getting up in front of people," she said. "While I was bartending (at the Castlerock Bar and Grill in Golden Valley), the locals would have me singing songs for them. Sometimes it got to be fun to just randomly start singing in the middle of a bar while people are dining and talking. It started conversations and I got to know more people that way.
"People I didn't know would come in and say, 'Hey, I heard you can sing,' and I'd say, 'Yeah, I'm a way better singer then I am bartender.'"
Payne will perform two songs she won't disclose until the night of the show, but no doubt they'll be country, based both on the nature of the competition and her love of the style of music.
"I appreciate all forms of music, they're all an expression of the artist who wrote the songs, but no matter what kind of music I stray to I always find myself turning back to the country music station," she said.
The contest is sponsored by locally by Highway Country (KIXW/KIXF) and is one of multiple competitions being held across the country.