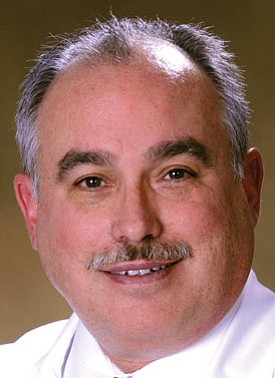 Originally Published: June 21, 2012 6 a.m.
Kingman Regional Medical Center is pleased to welcome Dr. Michael Van Tuyl to its medical staff at the KRMC Cancer Center. As a radiation oncologist, he specializes in treating cancer with radiation therapy.
With advanced training and extensive clinical experience in radiation oncology, Dr. Van Tuyl is highly skilled in treating different types of cancers, including complex and rare cases. He is dedicated to providing comprehensive and compassionate care to patients using state-of-the-art radiation treatment methods and technologies.
He received his doctorate in medicine at the University of Nevada School of Medicine in Reno, Nev., and completed an internship in psychiatry at Portsmouth Naval Hospital in Portsmouth, Va. He attended the Naval Undersea Medical Institute in Groton, Conn., where he received advanced training in submarine medicine, diving medicine, and radiobiology. He completed his residency in radiation oncology at Eastern Virginia Graduate School of Medicine in Norfolk, Va. He is board certified by the American Board of Radiology.
During his long career, Dr. Van Tuyl has gained a reputation as a "program builder and visionary." He has been instrumental in developing many patient-centered programs for providing cancer patients optimum care from diagnosis through survivorship. He currently has a special interest in treating prostate, breast, and gynecologic cancer using an advanced technology called "brachytherapy," which involves the placement of radioactive sources inside a malignant tumor. He hopes to start a brachytherapy program at KRMC in the near future.
In describing his approach to patient care, Dr. Van Tuyl says, "I work to identify my patients' individual needs and precisely tailor their radiation treatments for achieving maximum results with minimum complications. My goal is to do everything I can to not only aggressively combat the patient's cancer, but to also assure their overall well-being."