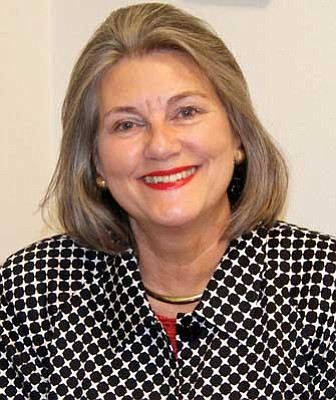 Originally Published: June 22, 2012 6 a.m.
KINGMAN - Mohave County's new library director, Danielle Krol, thinks libraries should be the heart and soul of communities.
"The most important card in your wallet is not a credit card," she said. "It's a library card."
Krol, who is in her fourth week on the job, is a naturalized citizen and said she was introduced to libraries when she accompanied her mother to the South Shore Branch of the Chicago Public Library where she enrolled in citizenship classes.
"I would go to the children's room to read Nancy Drew and books on Horatio Alger," she said
"I was born in Belgium and came to this country with my Mom at age seven," she said. "We landed in Chicago, where I grew up. Ironically, I recently came across an old news photograph of me from that time.
The newspaper caption read, 'Immigrant, confused but excited.' Both of my parents were born in Poland. I grew up with French and Polish being spoken at home. I have empathy for non-English-speaking people who come to the United States because I remember the challenges I had as a child not knowing the language or the culture."
Krol's first library job was as coordinator of system services at the Mid-Wisconsin Federated Library System.
She then moved on to become the "youngest branch manager with the Dallas Public Library," for the next close to three years, before moving back to her hometown to become chief methods analyst to the Chicago Public Library.
Prior to joining Mohave County, Krol also worked as northwest regional library coordinator for Maricopa County Library and executive director of Mid-Columbia Libraries in Kennewick, Wash.
"The library is the people's university," she said. "If one cannot afford a computer, go to the library. If one has a laptop but no Internet connection, go to the library.
If one has lost a job and needs help to find employment opportunities, go to the library. There are computer classes, job search assistance, games and summer reading programs, book clubs and discussion groups for youths and adults. Your library card is the best deal in town."
She's also pleased to see that the library appeals to a broad audience in Mohave County.
"Just this morning, I greeted about six teenagers at the Kingman Branch," she said. "They were waiting for the doors to open at 9 a.m. to use the library computers.
I introduced myself and asked them, 'What brings you to the library today?' One of the teens said, 'The library might as well be my home.' She was waiting to play games with her friends. I saw a chocolate cake with them and a teen said it was his birthday. These youths chose to celebrate his birthday at the library. What a magical way to begin the day."