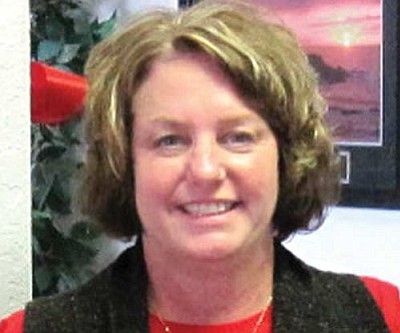 Originally Published: June 26, 2012 6 a.m.
KINGMAN - Director Suzanne Clarke needs a new word for "crisis."
Crisis could have described the situation for Kingman Aid to Abused People in 2009, when the domestic violence non-profit lost $130,000 of state funding, cutting its budget to about $560,000 to provide housing, legal and other resources for domestic violence and other victims of abuse.
Last week, KAAP'S situation went from crisis to what Clarke called devastation at the loss of an additional $227,000 in funding from the Arizona Department of Economic Security, meaning that KAAP will have to find a way to operate on a budget of $330,000, less than half of its budget from just four years ago.
"I don't have an answer for this," Clarke said, while pointing out that the cut in funding is more than the $220,000 KAAP budgets for its staff each year.
KAAP receives no county or city funding and is supported through grants, donations and the funding from the state.
The KAAP Board of Directors held an emergency board meeting Monday night to discuss the situation, while Clarke said she will attend a meeting in Phoenix on Thursday where agencies from rural areas will protest the cuts.
All of the agencies from rural areas that applied for funding have been cut in some way - some more than half their budgets - while funding in urban areas stayed the same or increased, because Clarke said DES officials used population numbers rather than needs assessments to distribute the $11.5 million in allocations.
It is believed that no urban areas had funding cut.
Clarke said that funding method makes no sense, since urban areas already have more support services already in place.
KAAP's services aren't limited to domestic violence victims. Staff recently worked on the case of a 94-year-old man being abused that resulted in the arrest of his caretaker. They've even handled cases involving mail order brides brought to Mohave County.
And as is almost always the case with non-profits, a decrease in funding almost never equates to a decrease in the need for services.
The day after Clarke got the news about the slash in funding, she assisted three emergency walk-ins. The next day, another three came in.
On Monday morning another two clients came in before it was even 9:30 a.m.
KAAP served 127 clients last year. They also handle incoming calls to all area crisis hotlines not related to 911.
"How do I train a volunteer to handle those calls without the funding?" Clarke said.
"How do we even afford the phone service we have?" asked Board President Sherrol Pitts.
KAAP closed one of two shelters and laid off several employees in 2009 as a result of state budget cuts that time around. Clarke doesn't know where to start cutting this time around, since everything with a price tag is vulnerable.
"I normally get a monthly check from DES of $31,000," Clarke said. "The next one will be just over $10,000."
Clarke said she has reached out to the three local state representatives and hasn't heard back from any of them, although she said that at least one of them has been an advocate for KAAP in the past.
Clarke and the other rural agency directors will attend a DES-hosted meeting Thursday to discuss the cuts, but "we're told this is pretty much non-negotiable," Clarke said.
If you need help:
Kingman Aid to Abused People 24-Hour Hotline: (928) 753-4242
To get an order of protection go to:
Kingman Justice Court: (928) 753-0710
Kingman Municipal Court: (928) 753-5561
National Domestic Violence Hotline: 1-800-799-SAFE (7233)