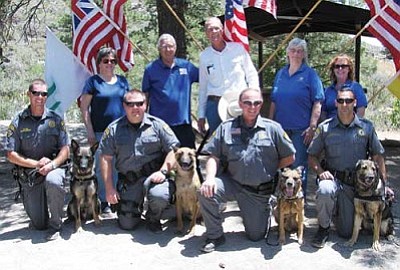 Originally Published: June 26, 2012 6 a.m.
Pictured (top row, left to right) are Katie Fitzgerald, lecturing knight; Kenneth Coombs, loyal knight; Gary Watson, county supervisor; Erin Moore, exalted ruler; and Kathy Taylor, leading knight, and officers of the Kingman Elks Lodge No. 468 in front of the flags presented at the lodge's annual Flag Day Ceremony.
Bottom row are: Sgt. Raja Karim and fellow officers and dogs of the Mohave County K-9 Department, who put on a demonstration prior to the lodge's annual Father's Day Picnic held at the Hualapai Mountain Recreation Area No. 1.
Around 200 adults and kids attended, and it looked like dad had a great day.