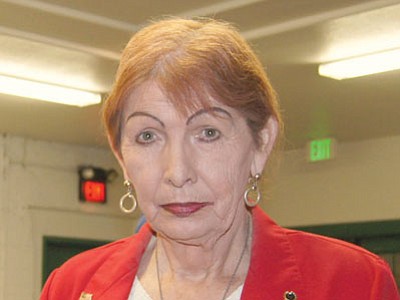 Originally Published: June 28, 2012 6:01 a.m.
Janice Palmer is determined to kick the "good old boys" out of local government.
The former candidate for Kingman City Council filed paperwork to run for the District 1 Supervisors seat recently. She will compete in the primary against Denise Bensusan.
Palmer is well known in the community for her volunteer work on the Kingman Clean City Commission, at the Katherine Heidenreich Adult Center, in the Red Cross and in the Marines.
Shortly after signing up to run for Council, a number of Palmer's friends who live in the unincorporated areas of Kingman, such as Butler, told her she should run for County Supervisor.
"They told me they were disappointed they couldn't vote for me in the city election," she said.
They also told her that the county has a lot of the same problems that the city does, namely politicians who have their own agenda and don't care what the public thinks, Palmer said. There's nothing that angers her more than to see the three supervisors sitting behind their bench with their arms crossed, telling people to sit down and shut up.
If elected, she would demand that everyone who came up to the podium to speak would get a chance to speak, regardless of what the other supervisors might think.
"These people need someone to fight for their rights," she said.
Palmer also pledged to do something to lower the cost of county permits and property taxes. She said she knows too many people who can't afford their property taxes or to fix up their homes because of the cost of permits.
She also disagreed with the idea that social organizations should have to get a health permit in order to hold a picnic for its members in a city park.
As for County Manger Ron Walker ...
"He needs to go. We need to get someone new," Palmer said. "Someone who doesn't have a personal agenda. Someone who's not a part of the good old boys network. Even if we have to go out of state."
Palmer would also take action against residents who have piles of debris and junk in their yards and pour toxic chemicals, such as antifreeze and transmission fluid, into the streets.
"They're breaking federal laws, but no one is doing anything about it," she said.
Mohave County does have a program, called the Mohave County Environmental Rural Area Cleanup Enforcement, that deals with wildcat dumping and has prosecuted a few offenders.
Palmer would also like to bring in big businesses like Levi Strauss and new restaurants like Olive Garden. The new businesses would provide jobs and tax income for the county.
She disagreed with the county's dress code policy. She said she had no problem with how a person dresses as long as it is appropriate to the situation.
"I want to see the average working person get some breaks," she said.
Much of Palmer's past is shrouded in mystery. She claims to be a veteran of the Vietnam war, who was injured in the war and received several commendations, that she worked with the CIA and FBI and on President Jimmy Carter's campaign and that she ran for Clark County Sheriff a number of years ago.
But her claims can't be verified because no one knows her true last name. Palmer claims she changed her name and moved to the Kingman area from Las Vegas because she wasn't afraid to take on and make trouble for the big casino owners in Las Vegas.
Palmer also claimed in January that the FBI, U.S. Department of Justice and the Arizona Attorney General's Office were investigating four Council members. The FBI's Phoenix branch told the Miner that it was not investigating any Council members. The four Council members - Robin Gordon, Janet Watson, Keith Walker and Carole Young - all said they had not been contacted by the FBI about any investigation. City Clerk Debbie Francis and City Attorney Carl Cooper also said they had not been contacted by any department about an investigation of any Council members.
When asked about her claims, Palmer laughed and asked, "Do you think the FBI would really tell a news reporter if they're investigating someone?"
She said she's not afraid of the "good old boys" and it's time that someone kicked them out of power.
"Government has to get back to the people. We don't need supervisors who won't be responsible to the people," Palmer said.