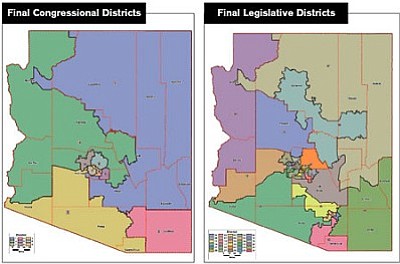 Originally Published: March 1, 2012 6:01 a.m.
PHOENIX - The Arizona Independent Redistricting Commission sent its final packet of maps to Washington, D.C. Tuesday.
The commission was responsible for redrawing the legislative and congressional voting districts for Arizona after the 2010 Census. Arizona is one of 16 states across the country that is required to send its voting district maps to the U.S. Department of Justice for approval because these states have a high population of minority voters.
The commission approved the state's new legislative and congressional district maps on Jan. 17. The maps for the congressional districts were sent to the Department of Justice on Feb. 10 and the legislative maps were sent on Tuesday. The department has 60 days from when it receives the maps to approve them, reject them or send them back for revisions.
This year's redistricting process was filled with controversy. The chairwoman of the commission, Colleen Mathis, was accused of not revealing her husband's ties to the Democratic Party and breaking the state's Open Meeting Laws when she allegedly tried to convince the other members of the commission to vote for a particular mapping consultant. Gov. Jan Brewer removed Mathis from the commission Nov. 1 based on the allegations. An Arizona court reinstated her to the commission Nov. 18