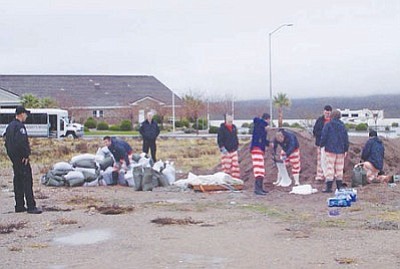 Originally Published: March 1, 2012 6 a.m.
The Mohave County Sheriff's Office is putting inmates to work cleaning up graffiti.
Sheriff's Spokeswoman Trish Carter said volunteer posse members are driving around town looking for graffiti on private property and offering a clean slate to property owners at no charge.
The inmates will be using paint and supplies donated by True Value Hardware.
Carter said the inmates used are ones that would have qualified for work release if they were employed. Their charges are normally low-level, non-violent offenses such as driving under the influence. Most of those inmates would be ones that had less than 60 days of their sentence to serve, making trying to escape during the cleanup detail not exactly worth their time.
Carter said inmates that fall under these classifications are used all the time for outside building maintenance and landscape weed removal.
To have graffiti painted over on a private property, contact Deputy Troy Schmotzer at (928) 753-0756, extension 4201.