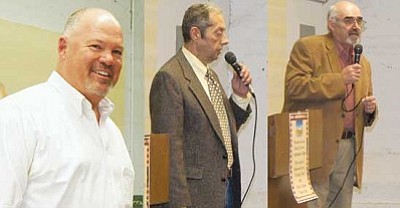 Originally Published: March 2, 2012 6:01 a.m.
KINGMAN - The city's primary election is March 13, and for those of you who have yet to decide which of the three mayoral candidates will get your vote, maybe the Miner can help.
Three questions were sent out to candidates last week via email. Candidates were asked to limit their answers to 350 words and told that their answers would be edited for grammar and nothing else.
The candidates for mayor are incumbent John Salem and challengers Bill Goodale and Ed Jones.
Miner: Kingman's economic growth is a major topic right now, but infrastructure needs, which go hand-in-hand with growth, are often left out of the discussion. How would you propose the city pay for infrastructure improvements related to commercial and residential growth?
John Salem: "The infrastructure needs of the city are always part of growth discussions. We have the capital improvement infrastructure plan, which is $240 million thick with projects for future needs of this city. In the next two years the city will be able to fund and complete several projects. Bonding and loan mechanisms probably won't be used in the near future. Pay-as-you go will be a more viable solution."
Bill Goodale: "The result of the poor economy during the past few years resulted with over-capacity in our water and sewer systems. Most folks see vacant and/or homes under foreclosure in their neighborhoods. We have vacant commercial buildings all over town. Fewer customers generate less revenue to pay for the systems that are in place. To avoid the need for future sewer rate increases on existing customers, the customer base must expand to increase the revenue. Mayor John Salem seems content with riding out this down economy and dealing with revenue shortfalls with tax and fee increases as the only solutions. We have half-built subdivisions with streets and utilities that have been accepted by the city and are deteriorating. As your mayor, I will bring together the business community to develop and execute a short-term plan to attract new residents to Kingman geared to reducing the over-supply of housing. The recovery of the construction and real estate industries will get people back to work.
"For way too long, Kingman has relied on tourism, construction and real estate to drive our economy. As your mayor, I will focus on promoting economic development in the Kingman area concentrating on industry that provides higher paying careers, which don't (create) a high demand for services. This would include but not limited to light industrial, warehouse distribution, health care and retail commercial. We will expect that these companies will pay for their own infrastructure. Kingman is a competitive location. No city property tax is a real advantage. As mayor, I will work with the Council to maximize opportunities for our City and our residents."
Ed Jones: "I'm reading this first question about infrastructure and I cannot believe that after the two wastewater plants are already built that the city manager and the mayor are now asking about a design and a plan (for) the sewer system. They are now worried because the citizens are mad about the rates going up and (continuing) to rise. I cannot believe (that people didn't have) the vision or plan to sit down with the city engineers and planning and zoning commission ahead of time. I believe that's the leadership part of your job (that) you don't get. Now we have a $55 million bill, and now we are talking about coming up with a plan! I would have thought somebody would have had the vision and a plan before all this was started. The answers that the city manager and the mayor said is true, but it's a little too late for the easy answers now. I guess the plan now is to hope everybody's septic system breaks down and (that) they will hook up to the sewer system and help pay the bill. I guess now we have to continue using the community development block grant money or beg the state of Arizona for more handouts to be used for the wastewater plants only. All the elected city officials and city manager are at fault on this one. All of us need to (be) held accountable for this, that's why we need to vote and make changes where they need to be made from top to bottom. We could start by not having this middle election, have every elected official on a four-year term and save the city a $100,000 bill. I don't understand that in my area within the city limits of north Kingman some of us are on sewer and some are not; we need to solve that problem first as it should have been. We need to bring in more jobs by bringing distribution (and) warehousing companies to help with our tax base."
Miner: What's your take regarding annexation? What parts of the area, if any, need to be annexed, and how do you propose starting the process, if at all?
John Salem: "I am in favor of annexing (vacant) land areas around Kingman as long as the city does not assume a financial burden. I am not for annexing high-density unincorporated areas, as the city will have to assume huge infrastructure liabilities and provide essential services such as police and fire. I have been working with staff to find solutions to those infrastructure needs within our water/wastewater service boundaries. I would love to see high-density areas annexed, but the city does not have the resources to do so anytime soon.
Bill Goodale: "Annexation is an important discussion for Kingman's future. We are presently limited in the site locations for industry within the city limits. Kingman's Airport Industrial Park and I-40 industries are outside the city. We should investigate the feasibility of annexing vacant and undeveloped land in cooperation with affected landowners to accommodate industry and possible retail development, which may not fit the airport. Aggressive annexation of "greenfield sites" near I-40 interchanges is a tool by which Kingman can control its own destiny and ensure we have job opportunities to sustain our economic future with good job opportunities for area residents.
"The annexation of the New Kingman area is a much more difficult question. There are many issues associated (with) such an annexation, which must be considered and resolved prior to annexation. I believe it would be impossible to provide city service to all of the New Kingman area without identifying sources of revenue. An annexation of this size would need widespread support of New Kingman and current Kingman residents. The city should continue its policy, which considers annexation requests of small areas as proposed by affected property owners.
"Any proposed annexation must make social and economic sense to all parties and (be) subject to an honest cost benefit analysis."
Ed Jones: "I believe in annexation, but before we can expand we have to solve the water sewerage problem. I believe as far as annexation we need to go from Stockton Hill Road north to Jagerson Avenue east bound to the Kingman Airport Industrial Park area then southbound to where it rejoins with the Kingman city limits.
Miner: What is the biggest problem facing Kingman right now, and how do you plan to help fix it?
John Salem: "The greatest challenge to Kingman is maintaining our financial resources. All employees and departments have done their due diligence in managing revenues and expenses. In four years, we have eliminated $9 million in expenses while providing great services the citizens enjoy. Our revenue streams are now subject to attack from state legislators to cover their financial woes. I personally work to lobby the needs of our city as a member of the board of directors of the League of Arizona Cities and Towns. I continue to fight legislative agendas harmful to city resources as well as the infringement (on) local control. Some examples of these legislative raids are Highway User Revenue Fund (gas taxes used to maintain roads), the Heritage Fund (reserved for the operation of park lands), the Aviation Fund, the State Lake Improvement Fund and a host of others that have been subject to sweeps."
Bill Goodale: "The economic downturn and resulting issues compounded by the lack of aggressive leadership (from) the mayor in dealing these issues is the most significant problem facing Kingman. More demands on a reduced wallet! We must look at how city services are provided and whether we're operating the most efficient and effective way while ensuring quality of service to our residents.
"A thorough review of operations of all departments and willingness to think outside the box and to question current practice is needed. Resulting efficiencies could be used to maintain streets or pay for other needs, which have been neglected due to the budget crunch.
"Kingman is one of a few cities in Arizona that operates without a property tax. Business development is needed to generate more jobs and sales tax revenue for city coffers to avoid tax increases.
If you elect me (as) your mayor I will market and promote the community. We will work together with local businesses to find out where the city government is getting in the way of business growth, and work with our Council to cut red tape and improve (the) business climate. We must be more agile to respond to resident and business needs. Providing a sound economic future for our younger residents and children should be a goal. As your mayor, I will draw on more than 30 years of experience in economic and community development to advocate for Kingman statewide.
"We have a City Council and staff with specific and special areas of interest and expertise. It is the mayor's responsibility to bring forth the diversity of interests in a collaborative manner to benefit decision-making and engagement with the citizens of the community to solve problems.
"As mayor, I will always remember who must pay for our decisions and (that) our decisions must benefit the residents of our community."
Ed Jones: "The City Council and I need to get the citizens excited about their city - Kingman, our city. We need to get the information out to tourists, business people (and) companies to inform them that Kingman is a great location not just to visit, but because of its location, Kingman is the perfect place to bring their companies. We need different types of manufacturing companies and distribution centers for many companies. We have the perfect location with I-40 going east to west and (Highways) 93 (and) 95 going south to north. I will personally contact CEOs and all other (companies) and bring as much business to Kingman as possible and help the local businesses as well. The downtown area needs to stay open on the weekends, so people (tourists) have other venues to shop and look around at local attractions. With all of this going on, maybe we can get (some) much-needed jobs. We need jobs, jobs, jobs. We need these (companies) that come in to be willing to train the labor force that is already here. This should have been thought of and put in to action in the late 1990s till now. Maybe we would not be in this struggle if people had the vision and foresight to plan it out.