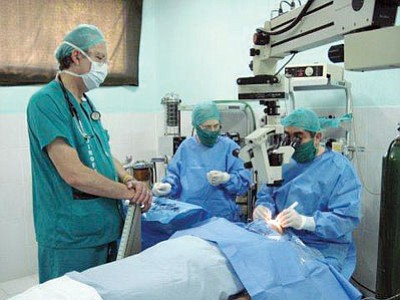 Originally Published: March 6, 2012 6:01 a.m.
KINGMAN - The residents of Kingman continue to give to those who are in need. Thirteen members of Kingman's Seventh-day Adventist Church spent their Christmas holiday donating their time and skills to make life a bit better for the 150,000 residents of Choluteca, Honduras.
Dr. Ted Zegarra and Vernon Fass, two elders at the Kingman church, organized the trip with the help of the church's humanitarian group Maranatha. The group was joined by 15 other people from Seventh-day churches in California, Colorado, Texas, Tennessee, New York, Mexico and Lake Havasu City.
The group helped construct a general classroom building and a computer classroom building and installed block walls on a shower/restroom facility for a school the church is building in the community, Fass said. When it is finished, the school will have 30 classrooms, a library, a meeting hall and administrative offices, and will serve more than 1,250 students.
Pat Disney, a retired local teacher, organized a vocational Bible school for the community that started with about 100 children and parents and nearly doubled in size before it ended four days later, Fass said.
Disney had plenty of help with the Bible school. Dr. Narce Zegarra and her children Teddy and Vanya and Alfa Ruiloba and her children, Diana and Omar Jr., all helped out with the various activities.
Disney's husband, Gene, not only filled in as a bus driver for the group but also entertained the children with his guitar, songs and "hambone" Bible stories, Fass said.
Education wasn't the only reason for the trip. The group also brought much-needed medical supplies and services to the community, he said.
A team of medical professionals performed eight cataract surgeries. The team consisted of Dr. Jenner Hernandez from Mexico and Dr. Ted Zegarra and registered nurses Wilda Wheeler-Ayers and Teresa Carter from Kingman, as well as eight pre-med and nursing students, Fass said.
The group also held four medical clinics with the help of registered nurses Audrey Robinson and Mariah Gage. They checked blood pressure and blood sugar and distributed medications and supplies that were donated by Kingman's Uptown Drug.
Dr. Conchita Mercado of Kingman used her hotel room for dental exam and procedures with portable equipment and supplies provided to the group by Kingman dentists Dr. Barry Uldrikson and Dr. Teddy Kimball, Fass said. Mercado extracted teeth and provide cleanings for around 200 patients.
More than 400 residents of Choluteca also received reading glasses, with the help of Margie "Bowie" Tefft, he said. With the help of interpreters, Tefft was able to determine which strength of glasses each resident needed.
The group was even able to provide a Christmas Eve gift of 200 T-shirts from Lee's T-shirts and more than 100 pairs of underwear and shoes to the children of Los Encentros, a small town about an hour away from Choluteca. The residents of the town lost nearly everything they owned when a hurricane hit the town in October.
"I've never seen boys get so excited about shoes and underwear. It was heart warming to know what an impact we were having," said Pastor Jack Robinson of Kingman.