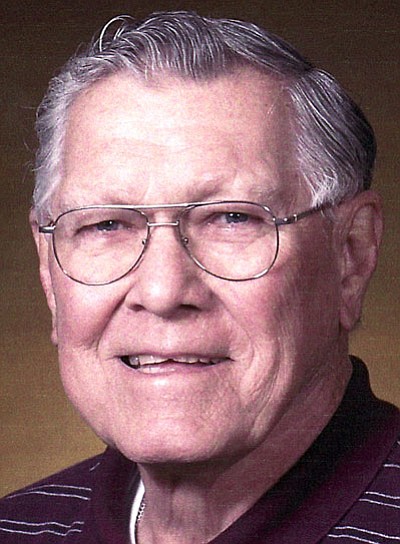 Originally Published: March 6, 2012 6:01 a.m.
Dale Moist was born to Esther and Harold Moist Dec. 30, 1934, in York, Neb. He passed away Saturday, Feb. 25, 2012, in Kingman. The family moved to Van Nuys, Calif., when he was six years old. In 1949 they moved to Anaheim where Dale finished high school. He was on the Anaheim High School swim team. After graduation in 1952 he enlisted in the Army and became a Morse Code interceptor during the Korean War.
After his Army years, ending in 1957, Dale attended Northwest Christian College in Oregon, the University of Oregon and then graduated in June 1959 from Chapman College in Orange, Calif., with a BA in economics.
Dale has worked in auto sales, owned a turkey ranch, and then settled into banking. He last worked for Antelope Valley Bank in Palmdale, Calif., as branch manager, and retired in 2000. While in Palmdale he was an active member of the Kiwanis Club and Chamber of Commerce. Dale was a member of the American Legion.
Dale met Mary while working for Crocker Bank (different offices) in the Ventura (California) area. They were married Dec. 17, 1983. They had 28 wonderful years together, enjoying family, golf, and travel together. Dale was an avid golfer, and in recent years played mostly at Valle Vista Golf Club with golf buddies and Mary.
He is survived by his wife, Mary; sister, Jean (Don) Schilling of Anaheim; sister-in-law, Alta Moist of Yucaipa, Calif.; brother-in-law, Frank (Carol) Manning of Dallas; sister-in-law, Hope Christensen of Kingman; stepsons, Kent Mazzia of West Linn, Ore., Kirk Mazzia of Chainat, Thailand, and Steve Teteak of Bakersfield, Calif.; grandsons, Cameron, Chase, Chance and Enzo Mazzia, and Dominic Teteak; granddaughter, Joey Montenegro. He is also survived by nieces, Terry Moist, Karen Connor, Lonnie Granland, Donita Moist, Susan Damron, Kim McCollum, Pamela Castaneda, and Katherine Gorbulev.
Dale had been fighting cancer off and on for six years, and is now at peace. We will all miss him greatly. In lieu of flowers, please donate to KRMC Hospice, 812 Airway Ave., Kingman, AZ 86409.
A celebration of life will be held at 11 a.m. Saturday, March 10, at Grace Lutheran Church, 2101 Harrison Ave.