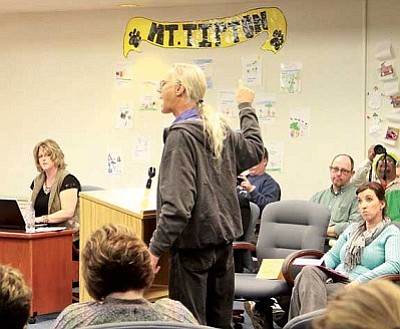 Originally Published: March 8, 2012 6:01 a.m.
One by one, several people from Dolan Springs concerned about the future of Mount Tipton School stood at a podium and addressed members of the Kingman Unified governing board.
Some offered alternatives to closing portions of the school, others expressed the dangers of bringing Mount Tipton students into Kingman, many showed their frustration focused on how the situation has been handled and one yelled at the board, demanding that promises made in the past be kept.
With the need to cut $4 million from its budget over the next two fiscal years, KUSD placed the middle school and high school portions of Mount Tipton on the chopping block, as it will save the district more than $310,000 a year.
No decision has been made, but the mere fact that restructuring the school is a topic of discussion has not gone over well with people who care about the school. Although there has been some complaining, the community is mobilized, organized and poised to come up with solutions to the budget problems outside of closing portions of the school.
Donna Wickerd, a teacher at Mount Tipton, said plainly that Mount Tipton needs a marketing plan. There's a possibility that the school could grow a particular program - such as environmental sciences - and use it as a magnet for students at other KUSD schools, she said. The school could also offer more Career and Technical Education courses, adding to Mount Tipton's marketability.
Mount Tipton's English Language Learners program has a 100 percent proficiency rate for the last two years. Wickerd said even that could be marketed to the rest of the district.
As for the thought that Mount Tipton students have limited educational options, Wickerd said she's not buying it.
"I don't want to hear they don't have choices," she said, adding that students can already go to Kingman schools if they choose.
Wickerd's husband, Perry, took a different approach when he addressed the board. He spoke of voting yes on a bond and the school being promised millions of dollars for infrastructure improvements - including a new gym and a science building - but getting none.
"Nothing happens because you guys don't care about us," Perry yelled at the board. "Stop not spending money on us!"
Although the school hasn't received a new gym or science building, the idea that KUSD doesn't spend money on Mount Tipton is unrealistic.
Most schools within Kingman Unified run on the revenue received from the state based on how many students attend, but not Mount Tipton. KUSD goes above and beyond the revenue received for students and subsidizes the school about $800,000 a year, said Superintendent Roger Jacks. Also, two years ago Mount Tipton received a three-year School Improvement Grant - which amounts to $500,000 a year - because it was in the bottom 5 percent of Arizona schools when it came to graduation rates, he added.
That grant pays for several resources, which have helped Mount Tipton improve its performance. KUSD Finance Director Wanda Hubbard said the grant money pays the salary and benefits of an 8th-grade teacher, a librarian, a social worker, an instructional coach for teachers and a grant coordinator. It also pays for a part-time parent volunteer coordinator. Certified staff at Mount Tipton receive a $5,000 a year stipend for working at the school as well.
There are several driving factors behind the restructuring discussion, Jacks said. First, can KUSD be successful with the school in its present form, Jacks asked. Second, can the school meet federal requirements for average yearly progress and graduation rates? Lastly, when the grant goes away, will KUSD need to come up with another $500,000 a year to keep the resources enacted through the SIG grant in place, or will the school be able to continue improving without the grant-funded resources?
This is where the community surrounding the school comes into play, because people have made it clear that they are ready to work with KUSD to find answers and money, or whatever it takes to keep the school in its present form.
The school's parent volunteer coordinator Rebecca Smith said she and others plan to create four tiers of budget-cutting options to propose to the board. Donna, on the other hand, said the school's staff deserves at least another year to find grants to supplement the grant money disappearing in a year and the money KUSD already puts into the school.
"There is a way to fix the situation as long as you give us a year," Donna said. Closing portions of the school "will kill our town."
The next installment of this discussion, which continues to tug on the heartstrings of people involved, comes at 5:30 p.m. March 20, at Mount Tipton School, 16500 Pierce Ferry Road, Dolan Springs.