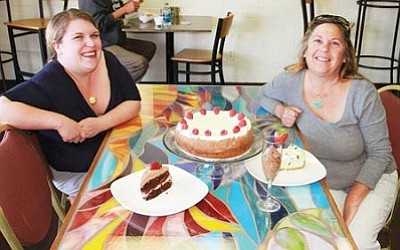 Originally Published: March 11, 2012 6:01 a.m.
People in Kingman often clamor for more good places to eat, but right in their backyard is one of the top 15 restaurants in Arizona, according to the magazine "Arizona Highways."
Sirens' Café, the local lunch spot that delivers, caters and even organizes special events, was named one of Arizona's 15 best restaurants for 2012.
Owned and operated by the mother-daughter team of Denise McMillan and Carmella Hynes, Sirens' has made a name for itself by serving quality dishes made from scratch for the last two-and-a-half years.
The two started the business in one of the worst economic climates this country has seen, but they believed in their vision enough to make it work.
"In a lot of the ways, it was the wrong time to start," said McMillan, the mother half of the team. "If we can make it through that, we got something."
Whether you order a traditional French onion soup prepared and cooked such that every detail is accounted for right down to how the onions are sliced, or a harvest soup made with several different types of squash and herbs, you'll know it was made with skill and care.
The café specializes in desserts and sandwiches as well.
Preparation makes a difference, and that means not looking for short cuts or easy ways out, Hynes said. It's all about loving to cook so much that you want to make something special, she added.
A great deal of art and imagination goes into running a quality restaurant, McMillan said. She should know - her grandfather worked as a chef for famous Los Angeles restaurants Perino's and Brown Derby.
Decorated with paintings of mermaids along with a stained-glass table and countertop, the café seems to say, "welcome" as you walk through the door. McMillan did the stained glass. She and Hynes also did some of the paintings.
"We're artists," Hynes said. "Food is just one of our mediums."
Being named one of the best places to eat in Arizona came as somewhat of a shock.
"I knew we were good," Hynes said. "But I didn't realize we could compete with some of these higher-class restaurants. It's nice to be recognized as their peers."
"Just to be included in this bunch is an honor," McMillan said.
The restaurant is truly a family affair. Hynes's husband Joe Autowski makes pizza dough while McMillan's son Mac makes pasta. The crew the café started with is the crew it has today, so Joey Pellerito - who makes sandwiches, potato and pasta salads and does a lot of the day-to-day cooking - along with server Tammie Treasure are considered adopted family.
The employees take ownership in Sirens' and share the pride and attention to detail their employers do, McMillan said. This adds to the pleasant atmosphere of Sirens', where the quality of food is priority No. 1.
Sirens' often holds special events coordinated with the Cellar Door. For instance, from 5-9 p.m. every Thursday is Pizza Night at the Cellar Door. You can enjoy a nice glass of wine - or two - at the Cellar Door and have a freshly made-from-scratch pizza delivered from Sirens'.
Also, the café holds a first Friday dinner every month, where a menu containing two or three entrees is designed and offered from 6-9:30 p.m. The menu is often themed. For instance, March's dinner included, but was not limited to, Guinness Cheddar Soup, chocolate mousse spiked with Bailey's Irish Cream, and prime rib served with au gratin potatoes and asparagus, giving the dinner a somewhat Irish theme.
To get a taste of what Arizona Highways views as top-notch eats, Sirens' Café and Custom Catering can be found at 419 E. Beale St. Or call (928) 753-4151 for more information or to order a meal that will be delivered to you.