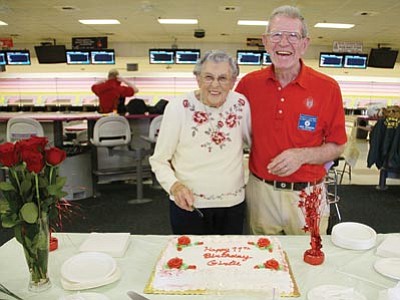 Originally Published: March 12, 2012 6:01 a.m.
They say you're never too old to take up a new hobby.
This is the case for Gertrude Stanton, or "Girlie," as she is called at Cerbat Lanes. She picked up the sport of bowling when she was 75, about the time she met her second husband, Jack.
Jack Stanton, 85, started bowling when he was 18 after joining a team with some friends from work.
"I used to go and watch my children bowl, but I never did it until I was married to (Jack)," Girlie said.
Jack and Girlie have been married for the past 25 years - second marriages for both after their previous spouses passed away.
Girlie, despite suffering some medical setbacks, is still rolling strikes at the age of 99.
Born March 10, 1913, Girlie has been witness to an ever-changing world. Just nine months after she was born, Henry Ford began mass-producing his Model T. By the time she was 5, the U.S. was fighting in World War I. When she turned 18, the country was in the grip of the Great Depression. At 30, the U.S. was fighting in World War II, and by 56, America had put a man on the moon.
But while she has been witness too many historical events and seen great advances in technology, from the popularity of radio and television to the advent of the Internet and cell phones, she still finds some technology to be a bit overwhelming.
"I don't make phone calls anymore," Girlie said. "I like the old fashion rotary phones."
If you ask her the secret to longevity, she won't hesitate and tell you "work like a son of a gun from the time you are 5 years old, and don't drink and don't smoke."
Girlie does admit she uses alcohol in moderation and mostly for medicinal purposes.
"The only time I take any liquor is when I have a cold," Girlie said. "I'll take a shot before I go to bed. I'm not a boozer, but I usually take blackberry brandy because that clears the phlegm when I have a cold."
Despite some medical setbacks in the last few years, Girlie has stayed pretty healthy and was able to easily move around without much assistance at the bowling ally Thursday during a birthday celebration.
Girlie's excellent health can be attributed to the fact that she's very active, from working in her yard, bowling, playing bingo and occasionally traveling to Laughlin to play the slots.
"She's an angel on earth and she's loved by everyone," said Tinkey Burrowbridge, one of Girlie's closest friends.
Burrowbridge met Girlie when she moved to Kingman seven years ago and started bowling in a regular league.
"I fell in love with her the first time I saw her. She reminded me so much of my great aunt," Burrowbridge said. "She took to me and I took to her and it was an instant friendship."
Girlie may be healthy as an ox and you may mistake her for an 80-year-old, but things haven't been all smooth sailing for her.
Just after her 95th birthday she suffered a stroke, and if it wasn't for some quick thinking by her husband Jack, things could've been a lot worse.
"I took her to the doctor and he checked her blood pressure and he told me to get her to the hospital right now," Jack said. "She passed out there and woke up about five in the afternoon. It could've been a lot worse."
While the stroke was serious, the most serious health scare she has had happened about a year ago when she started complaining about stomach pains and was hospitalized.
"It was like someone took a big axe and gave me a big blow," Girlie said.
The other thing that keeps Girlie strong is her faith. A devout Catholic, she prayed daily while in the hospital, and one of her prayers was answered in the form of a miracle.
"The blessed Virgin Mary stood by my bed and she looked at me and never said a word," Girlie said. "She must've prayed for me and then she disappeared. I thought it was a windstorm coming up that sounded like someone walking on dry leaves. I thought to myself that it was a nice dream, and about the time I said that she appeared again. She didn't say anything. She just stood by and bowed her head and prayed for me."
The doctors were astonished the next morning when they found Girlie sitting up in bed, free from her restraints.
"I had a miracle happen to me," she said. "There have been three times in my life they have given me up for dead and that was one of them."
Girlie was born on a farm in Minnesota and moved to Kingman in 1967 where she started baking cakes at the Silver Spoon.
Girlie's reputation grew and she soon found herself baking cakes for people in Las Vegas, Phoenix and Yuma, but her reputation really soared after a pilot for Howard Hughes tasted one of her cakes.
That led to Girlie baking a cake for Hughes that was 9 feet tall with a 48-square-inch base. The cake was so cumbersome that Hughes flew Girlie to Los Angeles so she could set it up.
Girlie continued to bake cakes at the Silver Spoon long after Hughes died and after her first husband, Maynard passed away after 48 years together.
Girlie had no intentions of ever getting married again, but things changed when Jack made a delivery to the eatery.
"I used to deliver produce to the restaurant," Jack said. "Then I used to stop in and have a piece of cake."
A short time later they married, and the two have never been too far apart for the past 25 years.
"Jack has been an angel beside her," Burrowbridge said.
Despite their age, Jack and Girlie live alone where, according to Burrowbridge, Jack can't keep Girlie from bending over and digging up dirt and planting - despite the fact that Girlie recently broke her hip while pruning trees.
It's that can-do attitude that has Burrowbridge confident that Girlie will one day rejoin the bowling league once she's fully healed and has Jack's blessing.
"She will join it again," Burrowbridge said. "I have no doubt in my mind."
It's that spirit that she feels will also lead to an even bigger birthday celebration next year when Girlie turns 100.
"She has a lot of get up and go because she has such a positive mind that she is not going to lay around," Burrowbridge said. "Some people when they get older they say, 'I'm going to lay around and hang out.' Not her. She fights for everything."