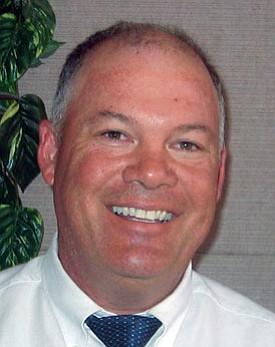 Originally Published: March 12, 2012 6:01 a.m.
A lively municipal election campaign takes a significant step forward Tuesday, when voters go to the polls to start paring down candidates for Kingman mayor and City Council.
Three City Council seats are up for grabs while three men hope to be Kingman's next mayor. Two-term incumbent Mayor John Salem is challenged by Bill Goodale and Ed Jones, while current Councilwomen Robin Gordon and Carole Young hope to retain their positions. Out of the five challengers - Mark Wimpee, Kelly DeMaio, Larry Carver, Janice Palmer and Allen Mossberg - at least one is guaranteed to win a spot. Mossberg, a latecomer to the race, is an official write-in candidate.
During the primary, candidates can win by pulling in 51 percent of the vote. Voters vote once for mayor, and can vote for up to three candidates for Council.
If none of the council candidates collects 51 percent, the top six advance to the general election. If one reaches the total, the next four advance for the two remaining seats, and if two candidates reach or exceed 51 percent, the top two remaining vote-getters advance to battle it out for the final seat in the general election.
If you are not sure where to vote, call Mohave County Voter Registration at (928) 753-0767 to get the precinct you live in.
If you're in precincts 17 and 18, vote at St. Mary Roman Catholic Parish Center, 302 E. Spring St. For precincts 38 and 58, vote at the Church of Christ, 1915 Robinson Ave. Those in 19 and 20, vote at the Moose Lodge, 302 Monroe St. People lving in 16, 22 and 51 vote at St. John's Methodist Church, 1730 Kino Ave, while those in six and 14 vote at the First Assembly of God Church, 1850 Gates Ave. For precinct 62, vote at the Nazarene Church, 4715 Stockton Hill Road. Lastly, people within 15 vote at the First Southern Baptist Church, 3120 Hualapai Mountain Road.
Polls open at 6 a.m. and close at 7 p.m. Also, don't forget to bring identification, as you'll need it to be able to vote.
For a list of acceptable forms of ID, go to Mohave County's website, click on the elections department, then choose "identification at the polls."