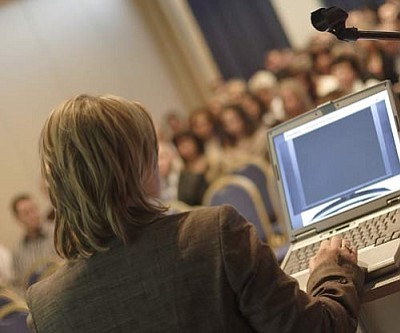 Originally Published: March 13, 2012 6:01 a.m.
KINGMAN - The Call to the Public could be making a comeback at the Mohave County Planning and Zoning Commission meetings.
The commission will discuss the issue at its 10 a.m. meeting Wednesday at the County Administration Building, 700 W. Beale St.
At the end of the commission's February meeting, Commissioner Rick Sherwood asked that the item be added to the March agenda. Sherwood is a candidate for the District 4 Board of Supervisors seat and has made returning the Call to the Public to the commission's and Board's agendas part of his platform.
Many government boards hold a Call to the Public during their regular meetings so residents can bring issues that are not on the board's agenda to its attention. Because such items are not part of the board's formal agenda, board members are not able to take action or discuss the item. However, they can refer the issue to staff or request that it be placed on the next board agenda.
According to the Arizona Revised Statutes, a government board or commission is not required to make a Call to the Public.
The Mohave County Board of Supervisors has not had a formal Call to the Public for many years. The commission removed it from its regular agenda in 2009 in order to shorten its meetings, which have sometimes stretched into the evening hours or been continued to another day due to discussions on controversial projects.
The commission will also consider two requests for zoning use permits for helicopter landing sites - one in the White Hills area and the other near Grand Canyon West.
The one in White Hills will be located at a land sales office north of the intersection of U.S. 93 and White Hills Road and on the opposite side of the highway from Triangle Airpark.
The second request is to renew a zoning use permit for an existing helicopter landing site located approximately 12 miles east of Pierce Ferry Road, near the western boundary of the Hualapai Reservation.
The commission will also consider a request from a Kingman Pentecostal Church of God, 4087 N. Eagle Dr., to rezone a piece of property at the corner of Castle Rock Road and Mallard Drive from single-family residential to neighborhood commercial so it can expand.