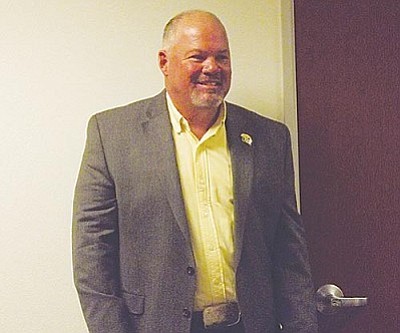 Originally Published: March 14, 2012 6 a.m.
KINGMAN - The city's next mayor is the same as its last one. John Salem pulled in nearly 57 percent of the votes cast Tuesday and will serve another term as Kingman's mayor.
Challengers Ed Jones and Bill Goodale pulled in approximately 16 percent and 25 percent of the vote, respectively.
"I think the people of Kingman trust me to do the right thing," Salem said. "I'm appreciative, and I think I earned their trust."
The prospect of being mayor during better economic times is thrilling, Salem said. Salem spoke of serving Kingman during one of the worst economic times in the history of the world.
As things seem to be getting better, Salem spoke mentioned getting Kingman back on track and having the discretion to do what the city needs done.
Outside of Salem's victory, things get somewhat complicated.
First, not all of the votes have been tallied. Mohave County Elections Director Allen Tempert said early ballots that were dropped off in the last couple days need to be tallied as well as provisional ballots cast at the polls today.
He said the final unofficial results could come as early as Thursday and no later than Friday night. To keep your eyes on the race, go to the "elections" page on Mohave County's website. When it says on the page, "Final unofficial results," all ballots have been counted.
As it stands now, six City Council candidates will continue vying for the three open Council seats till the May 15 general election, as no one garnered enough votes to secure a seat now.
It looks as if write-in candidate Allen Mossberg will not move on to the next stage because he pulled in just over 12 percent of the vote - the least amount of any candidate.
Outside of that, it was an extremely close race. Mark Wimpee received 49.34 percent of the vote while Larry Carver pulled in 49.30 percent. Incumbents Robin Gordon and Carole Young received 44.38 percent and 45.42 percent, respectively. Newcomers Janice Palmer and Kelly DeMaio received 20.83 percent and 18.92 percent of the vote, respectively.
Brett Hale, the Council candidate who passed away, received 16.27 percent of the vote as well.
Again, more ballots still need to be tallied, but Tempert said it's not a huge amount that's missing. But as of right now, 2,785 of the 15,966 registered voters in Kingman decided to take part in the election.