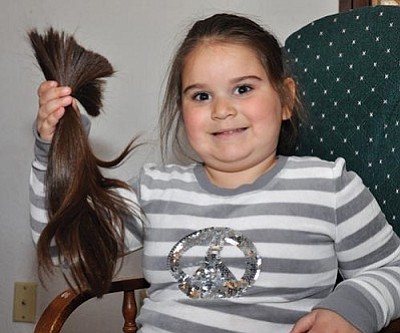 Originally Published: March 14, 2012 6 a.m.
KINGMAN - Roxanne Trotter may be small in stature, but that doesn't stop her from exhibiting a big heart by donating part of herself to help financially disadvantaged children.
The 5-year-old girl, who stands just an inch short of 4 feet tall, lives in Kingman with her parents, Carla and Perry Trotter.
Roxanne, who's affectionately known as Rocky to her friends and family, was talking with her mom one day and learned that there were children who lose their hair because of medical reasons.
"When she heard kids didn't have hair because of medical reasons and learned there was an organization to donate hair to, her eyes lit up," her mom said. "She told me she wanted to help out."
Carla told her daughter about the Locks of Love organization that provides free hairpieces to poor children in the United States and Canada, who lose their hair due to medical reasons. Not too long afterward, Rocky visited a local salon with her mom and within a few minutes, her hair was about 15 inches shorter.
Most of the recipients of the hairpieces have lost their hair due to an autoimmune condition called alopecia areata, which has no known cause or cure. Other recipients of the hairpieces lost their hair because of radiation treatments, burns or other medical conditions.
According to Rocky's mom, it takes donations from six to 10 people to make one hairpiece that consists of approximately 150,000 hairs.
Hair donation forms must accompany all hair that is sent in for donation. The forms are available on the Locks of Love website at www.locksoflove.org.
Carla Trotter said there are many salons and/or beauticians who volunteer to cut hair for Locks of Love. She suggests that if someone is interested in donating hair, he or she should call their local salon and ask if they would donate their time.
Rocky said she wants to take helping the needy children who need hairpieces a bit further by putting out a challenge to everyone.
She said, "I would like a lot of people to get their hair cut like I did and donate it to Locks of Love."