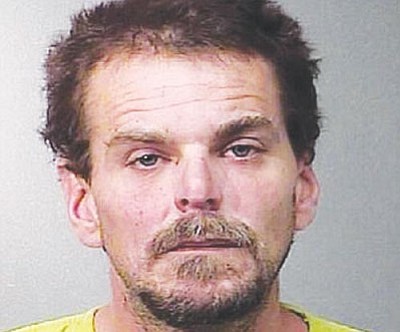 Originally Published: March 14, 2012 6:01 a.m.
KINGMAN - Stephen Johnson, the suspect arrested Saturday after reportedly firing bullets across a parking lot while fleeing from the gas station he had just tried to rob, has served time for robbery before.
Johnson was 19 when he pleaded guilty to armed robbery and attempted murder for two separate incidents that took place a week apart almost 20 years ago.
The first incident took place June 28, 1994, when Johnson and two accomplices called in a phony delivery order to the downtown Pizza Hut location. The deliveryman was instructed to bring enough change for $50 and to bring the pizza to the 300 block of Lead Street.
Johnson admitted in an interview with Kingman Police detectives after his first arrest that he confronted the deliveryman when he arrived, pointing a gun in the man's face. Johnson took $37.17 from the driver, along with the Bigfoot pizza the driver was carrying.
Johnson said he turned the money over to one of the accomplices, who needed money to pay back $50 he had stolen from his dad, which prompted the robbery in the first place.
The next incident took place a week later on July 5, at the former Sunny Inn on Andy Devine Avenue. In the same interview with police, Johnson said he noticed two men he figured to be foreign based on their accents and decided to rob them since they'd have money for travel expenses.
Johnson said he followed the Swiss men, noted their room number and then knocked a few minutes later feigning car trouble and asking to use the phone.
The men let Johnson in, but one man was suspicious and lingered outside the door. Johnson pointed a .22 caliber semi-automatic gun at the man and told him to come inside. The man took off running and Johnson fired at him. Johnson then turned his attention to the second man seated by the phone, but ran out of the room after he noticed that the gun had jammed.
"The reason I shot at this guy was because I was scared, because, like I said, first thing that popped in my mind (was) 'Oh (deleted) cops, I'm busted.' So I popped, you know?" Johnson said back in 1994. "I thought he was going to call the cops so I busted out the motel room and (deleted) shot."
Johnson and his accomplices were arrested after someone called in a tip to police a few days after the motel incident.
At Johnson's first trial, in which he ultimately took a plea deal, he said he was coming down from methamphetamine during both the deliveryman and motel robberies and was talked into the robberies. It's not clear if he was under the influence during Saturday's robbery. He was arrested a short distance away near the Bashas' grocery store.