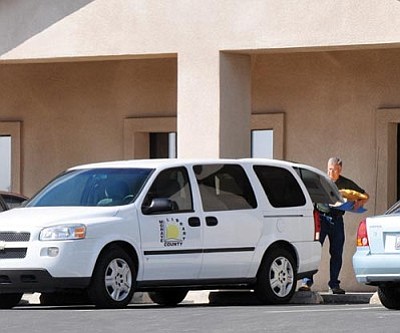 Originally Published: March 15, 2012 6 a.m.
KINGMAN - There's no room in the county's buildings for the library annex County Manager Ron Walker told the Board of Supervisors Monday.
The County's Public Works Department and Office of Management and Budget completed audits of the county's buildings and found no suitable office space for the annex, he said.
Space for the Mohave County Library Annex became an issue when the lease for the current annex building came up for renewal in December. At that time, Hildy Angius, a candidate for the District II Supervisor seat, questioned the propriety of leasing office space from the relatives of two county employees.
In January, District 1 Supervisor Gary Watson asked county staff to take a second look at the office space in the county's buildings to determine if there was any space for the annex.
After receiving the report from Walker on Monday, Watson asked if there was a way that the county could include space for the annex in any of the new buildings the county planned to build in the future.
The only new building the county was currently planning for was the Public Works Building, Walker said. Several requirements would have to be taken into consideration for adding the annex to the project such as load bearing floors, access doors and office space.
Supervisor Tom Sockwell pointed out that the county owned some property adjacent to the Kingman branch of the library and suggested that when the time came to expand that branch of the library the county should consider adding the annex to the plans.
The Board voted in favor of having staff look into the idea of building an office for the annex on the property adjacent to the Kingman branch.
The Board also approved:
• Text amendments to the Sterling Area Plan to allow a solar plant to change technology.
• A request for a crosswalk and a traffic control device on Pierce Ferry Road in Dolan Springs.
• A request to endorse an application for a federal grant from the Hualapai Tribe to pave nine miles of Diamond Bar Road.
• Looking at some of the legal options to fight the federal government removing more than 1 million acres of land from hard rock mining near the Grand Canyon.