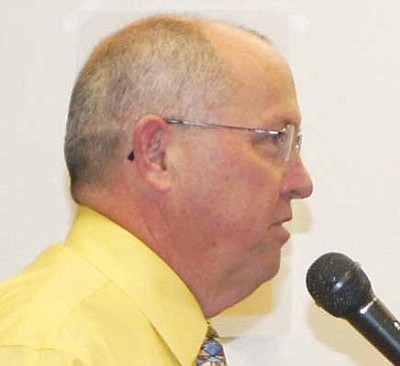 Originally Published: March 16, 2012 6:01 a.m.
KINGMAN - All but one of the votes are in for the Kingman primary election, but the results are about the same as they were Tuesday night.
That last vote comes from a man who cast a provisional ballot but had insufficient identification. Mohave County Elections Director Allen Tempert said the man has until 5 p.m. today to make his way to voter registration to show ID. At the latest, final unofficial results will be posted on Mohave County's election Web page today at 5 p.m.
Of the 15,966 registered voters in Kingman, 2,931 cast ballot cards.
John Salem won the election outright, and will serve another term as Kingman's mayor.
Here's how the numbers came out: 746 people (25.45 percent) voted for Bill Goodale, 466 (15.90 percent) filled in the Ed Jones bubble on the ballot and 1,648 (56.23 percent) chose Salem to be their mayor. Also, eight people (0.27 percent) voted for unknown write-in candidates.
For the three open seats on City Council, 1,445 (49.30 percent) people voted for Larry Carver, 1,443 (49.23 percent) picked Mark Wimpee, 1,331 (44.41 percent) voted for Carole Young, 1,290 (44.01 percent) chose Robin Gordon, 606 (20.68 percent) voted for Janice Palmer, 557 (19 percent) chose Kelly DeMaio and 381 (13 percent) voted for a write-in candidate. Although Allen Mossberg was the official write-in candidate, there is no way to be sure - at this point - that all write-in votes went to him.
If Carver and Wimpee had been able to secure just a few more votes - bringing them to 51 percent - they would've won the Council seats in the primary, but since they didn't it's on to the general election May 15.
Accompanying Wimpee and Carver to the run-off will be Gordon, Young, Palmer and DeMaio. Mossberg is the only candidate not to qualify.
Brett Hale, the Council candidate who died in February, received 461 (15.73 percent) votes - more than DeMaio and Mossberg. He will not be on the general election ballot.