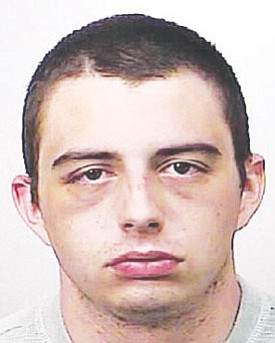 Originally Published: March 19, 2012 6:01 a.m.
Two men were arrested last week after the driver fled a traffic stop, ditched his truck and ran into a stranger's home trying evade authorities.
Mohave County Sheriff's deputies said the traffic stop was initiated after they saw a truck without one working headlight traveling southbound on Sunshine Drive around 8 p.m. Wednesday.
Deputies stopped the driver, identified as Charles Everett Michael Berg, 28, and spoke with him and his passenger, Arthur Lee Arreola Jr., 20.
While doing a standard records check on Berg's license, deputies learned that Berg had three felony warrants and three misdemeanor warrants out for his arrest. Deputies went back to the truck and asked Berg to exit so that he could be placed under arrest.
That's when, according to Sheriff's Spokeswoman Trish Carter, Berg, still in the driver's seat, grabbed the steering wheel and began to accelerate.
Carter said a deputy managed to open the door and grab Berg's left hand but had to jump back to avoid being run over by the car.
The deputy tried to follow but lost sight of the truck. The truck was located a short time later on Mallard Drive at Lory Lane. The passenger, Arreola, was with the truck. He was arrested when drug paraphernalia was found in a backpack he was carrying.
Deputies then heard yelling coming from a nearby home and saw Berg climbing out a back window. Carter said Berg climbed back in when he spotted deputies. He remained in the home for 10 minutes before deputies went inside to arrest him.
A 52-year-old woman was inside the home at the time. She was not injured.
Berg was booked into the Mohave County Jail on felony charges of resisting arrest, possession of dangerous drugs, possession of drug paraphernalia and his six outstanding warrants. He also faces a charge of criminal damage for hitting and damaging a fire hydrant in the area of Mallard Drive and Castle Rock Road during his run from authorities.
Arreola was arrested for felony possession of drug paraphernalia.