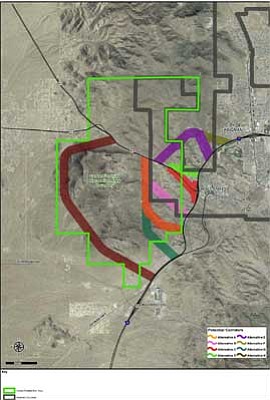 Originally Published: March 23, 2012 6:01 a.m.
KINGMAN - The Arizona Department of Transportation is looking for more public input on possible changes to the I-40/US 93 interchange near the Travel America truck stop.
The department is holding a meeting from 6 to 8 p.m. Thursday in Kingman at the Lee Williams High School Auditorium, 400 Grandview Ave.
The area in question is well known for its traffic as both large trucks and regular motorists try to exit I-40 for gas or to take US 93 to Las Vegas or connect with Highway 68 to Bullhead City in Golden Valley.
The department is trying to alleviate the congestion by possibly routing traffic around the area to a new interchange or building a viaduct, an interchange stacked above the existing interchange.
ADOT has been studying the situation since 2009. In September, officials told the public that the department had its eye on two of the eight alternatives it had come up with, but nothing has been set in stone yet. Those two alternatives include the viaduct and a new interchange slightly north of the Beale Street junction.
Thursday's meeting is an attempt to gather more information on which options the public likes.
However, it may be a while before residents see any improvements to the interchange, said Senior Community Relations Officer Michele Beggs. The study is expected to be finished in 2013, and the project would have to be placed on the state's five-year improvement plan before it would it would be funded.
More like this story