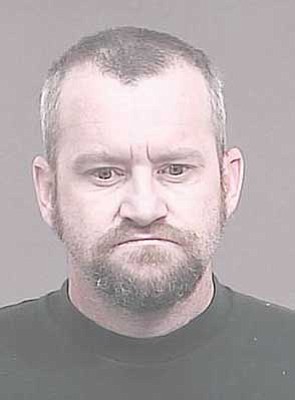 Originally Published: March 23, 2012 6:01 a.m.
KINGMAN - Two Nevada brothers have pleaded guilty to a pair of bank robberies in Kingman and Fort Mohave last summer.
Thomas Joseph Leavy, 40, entered into his plea agreement Wednesday. He pleaded guilty pursuant to Alford to one count of robbery and one count of aggravated robbery in exchange for six years in prison. An Alford plea is similar to a no-contest plea in which a defendant maintains innocence while admitting that there is evidence pointing to guilt.
Kevin Michael Leavy, 39, pleaded guilty last Friday to one count of aggravated robbery in exchange for 3 ½ years in prison.
The younger Leavy was ordered to pay $3,000 in restitution while his older brother was ordered to pay close to $10,000.
The brothers, both of Henderson, Nev., were arrested last September on the Nevada side of the Colorado River after they tried to swim away from authorities. The brothers were being pursued by a deputy with the Mohave County Sheriff's Office who had intercepted the pair while driving on Highway 95 after the Horizon Community Bank robbery Sept. 7.
The pursuing deputy reportedly had a jet skier give him a ride across the river and found the men exhausted on the bank. The jet skier doubled back to give the deputy's partner a ride across as well. Because the men were arrested on the Nevada side, they had to go through extradition proceedings to be returned to Arizona.
The men were suspected in the Aug. 31 robbery of a U.S. Bank in Kingman in which a man wearing a wig made off with more than $6,200. Authorities made the connection after finding a wig in the Leavys' car following their arrest, although they were never certain if both men participated or just one.
The money from the Horizon Bank robbery was never recovered and is believed to have been lost in the Colorado River during the men's swim.