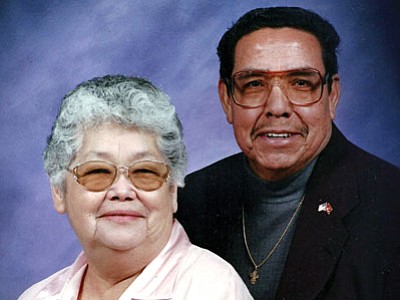 Originally Published: March 25, 2012 6:01 a.m.
Carlos and Minnie Rodriquez were married on March 24, 1962. The couple met at a dance in Phoenix and have been together ever since. They will be celebrating their 50th wedding anniversary on Saturday, March 24, 2012. Carlos and Minnie moved from Phoenix to Kingman in November of 1963 when Carlos accepted a job offer working for the Market Basket in downtown Kingman.
The couple has enjoyed a good life here in Kingman raising a family including two children, Luis and Olivia, seven grandchildren and seven great-grandchildren. They have been active members of St. Mary's Catholic Church since moving to Kingman. Carlos worked for Safeway Food Stores for 25 years before retiring in 1995. Minnie worked for Kingman Regional Medical Center for 22 years before retiring with Carlos in 1995.
A family celebration is planned at the home of the couple to commemorate the grand and auspicious occasion. Carlos and Minnie, we wish you the best; thank you for your kindness, understanding and for the fine example you have set for your family and friends.