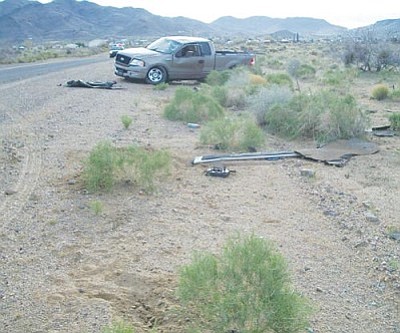 Originally Published: March 27, 2012 6:01 a.m.
KINGMAN - A 21-year-old Golden Valley man was killed in a single vehicle accident Sunday.
The Mohave County Sheriff's Office identified the man as Christopher Michael Watson. Watson was the lone occupant of a 2005 Ford pickup that was headed east on Chino Drive around 6:30 a.m. Watson lost control of the truck after it drifted onto the shoulder, according to Sheriff's Spokeswoman Trish Carter.
Watson, who was reportedly not wearing a seat belt, was thrown about 50 feet from the truck after it rolled multiple times. He was pronounced dead at the scene.
Carter said the accident is still being investigated but that it appears speed is a factor.