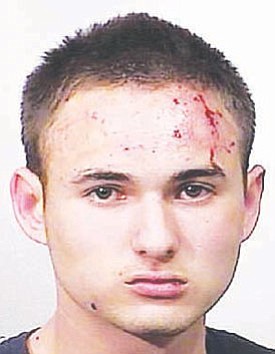 Originally Published: March 29, 2012 6:01 a.m.
A homeowner's request to keep an eye on a home during a vacation paid off when a suspected burglar was caught in the act of trying to break in.
Kingman Police responded to the 2000 block of Alan Ladd Drive around 4:30 a.m. Saturday after receiving a report of a burglary in progress.
Kingman Police Capt. Rusty Cooper said officers arrived and spotted 18-year-old Taylor McKenzie Pennington in the backyard trying to get into the house through a window.
Cooper said Pennington tried to run from officers but was caught while trying to scale a fence, leading to injuries seen in his booking photo.
While Pennington was being arrested, Cooper said officers found items that had been stolen out of a car parked in the home's driveway.
Cooper said Pennington was heavily intoxicated at the time of the incident. He was booked into the Mohave County Jail on felony charges of residential burglary, possession of drug paraphernalia and possession of marijuana.