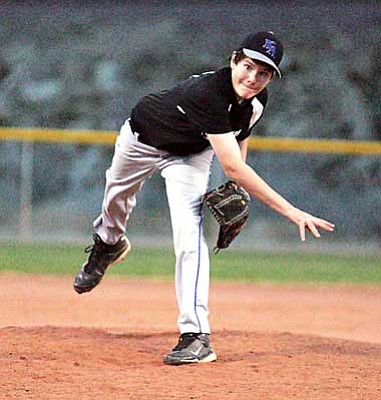 Originally Published: March 30, 2012 6 a.m.
KINGMAN - Kingman Academy Black's Tarik Skubal and Austin Tomlinson combined to no-hit South Ridge Tuesday during the Tigers' 10-2 win.
Skubal pitched five innings - striking out eight and walking three - and Tomlinson pitched the sixth, giving up two runs while walking two as the game was called due to the time limit.
South Ridge scored its two runs in the bottom of the sixth after capitalizing on two Tiger errors.
KAHS (3-0) was led at the plate by Westin McCord, who was 3-for-4, including a triple in the sixth to score Ethan Atkins. Black scored five runs in the sixth inning to seize control.
McCord helped get Black on the board when his RBI single in the third scored Cody Quick. Tomlinson later singled home McCord as KAHS jumped to a 3-0 lead.
The Tigers added one run each in the fourth and fifth innings before the sixth inning outburst.
KAHS will travel to Mesa Heritage today before hosting Laughlin Big League 3 p.m. Saturday.
More like this story