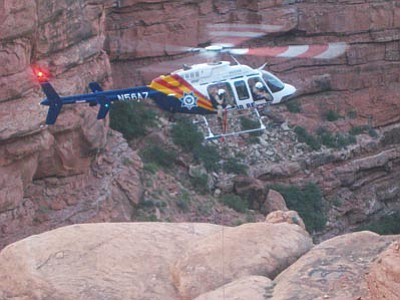 Originally Published: May 1, 2012 6 a.m.
Mohave County Sheriff's Office Search and Rescue Units and the Arizona Department of Public Safety Kingman Ranger helicopter crew were called on to assist National Park Service Rangers in rescuing a California man who fractured his leg while hiking along Kanab Creek on the North Rim of the Grand Canyon Sunday afternoon.
The law enforcement teams received an assistance call from the National Park Service around 4:30 p.m.
Once the Kingman Ranger and MCSO Search and Rescue members arrived, the helicopter lowered a search and rescue member approximately 75 feet into the canyon to the injured man and transported him to the rim.
The injured man has been identified as David Stockbridge, 59, of Martinez, Calif. He apparently slipped and fell while hiking in the area and suffered a "boot top" fracture to one leg.
According to the Wilderness Medical Society website, the injury usually involves fracturing the tibia bone in the lower leg mid-shin just above the top of most boots. The injury is most commonly seen in skiers and snowboarders.