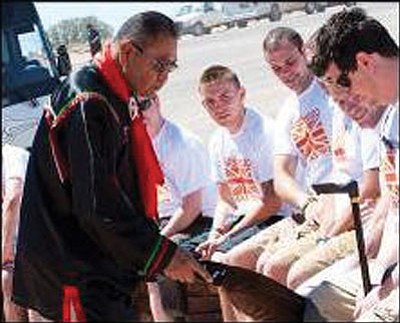 Originally Published: May 2, 2012 6 a.m.
GRAND CANYON WEST - The Hualapai Tribe celebrated veterans from around the world Wednesday with a special ceremony at Grand Canyon West Wednesday. Hualapai tribal members and veterans, along with 24 men from Great Britain, South Africa, Scotland, Ireland and Canada were in attendance.
The ceremony featured Hualapai prayers, the "Flag Song," "Victory Song" and a 21-gun salute. Rudy Clarke, a Hualapai Tribal Member, blessed the entire group and touched the legs of some with an eagle's feather for healing.
The eagle holds special meaning to Native American tribes and holds a particular importance to the Hualapai as the eagle delivers the prayers of the people from the earth to the heavens.
After the ceremony, the group enjoyed lunch at the Hualapai Ranch and walked out nearly 4,000 feet above the floor of the Grand Canyon on the Skywalk at Eagle Point. The ceremony was part of the "Help for Heroes" program, www.helpforheroes.org.uk, which celebrates friendship-in-arms and offers support for current wounded veterans of the coalition forces.
"This event was one of the most moving, heartfelt moments of my life," said Leora Azoulay, owner of Incentives By Design, the company responsible for coordinating this "Help for Heroes" event. "It was amazing to witness the respect and brotherhood shared by veterans, young and old."