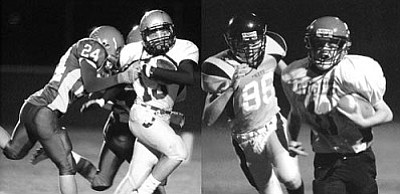 Originally Published: May 6, 2012 6 a.m.
KINGMAN - Don't be too surprised if you run into Arizona Cardinals wide receiver Larry Fitzgerald in Kingman in June.
But if Lee Williams football coach Eugene Kramer has his way, it could be Cardinals defensive end Calais Campbell.
Kramer has teamed up with Kingman High football coach Rob York to bring the NFL's High School Player Development camp to Kingman High School, June 4-8. The camp is free for players entering grades 9-12 in the fall, and will focus on the fundamentals of the game.
"It's a free football camp, which nowadays you really don't see free very much," Kramer said.
Players will wear helmets and shoulder pads, which will be provided by Kingman High and Kingman Academy High schools. Players will receive a practice jersey and a planner that will be provided by the National Football League.
The camp will also be opened to football players throughout Mohave County including players from Lake Havasu, Parker, River Valley and Bullhead City.
"How do you pass it up?" York said. "It's free. We get to wear half pads, the kids will be excited, and it's here, in Kingman so you don't have to go anywhere. If people in Bullhead can make it up here, a half-hour trip, for two hours of camp, I don't know how you can pass it up."
According to Kramer, the NFL will try to bring a current Cardinals player to every camp. The school that hosted this particular camp last year was able to get Fitzgerald to make an appearance.
"We have requested for (Campbell) as my brother knows him and he's a good guy," Kramer said.
The idea of a current Cardinals player coming to the camp sparked excitement from York when it was mentioned to him.
"That would be cool for the kids, that would be really exciting," York said. "Just having the NFL stamp on it, you would think it would get kids out here to come do it."
Kramer expects 150 kids to show up, but will accept as many as 300 with camp instructors consisting of coaches from KHS, Lee Williams and possibly the new coaching staff at KAHS along with some middle school coaches. But Kramer did say the invitation is open for coaches from Havasu, Bullhead City and other surrounding schools to help out as he tries to keep the coach-to-kid ratio at 10-to-1.
"We would love to see those kids participate and have all the football programs in Mohave County continue to get better," Kramer said.
With the ability to tap into other programs throughout the county and the fact that it's free, along with the stamp of the NFL on it, both Kramer and York hope by moving the camp to Kingman, the camp won't see the same fate it did previously where dismal numbers caused it to move.
"This is the first year. If we are successful, then more than likely the camp will come back here," Kramer said. "They are really pushing for us to hit 150 plus kids. The kids need to get out there and sign up. If they need to get a form, all the high schools have forms and all the middle schools have forms."
If anyone has more questions, they can contact Kramer at 681-2900 or York at 692-4486.