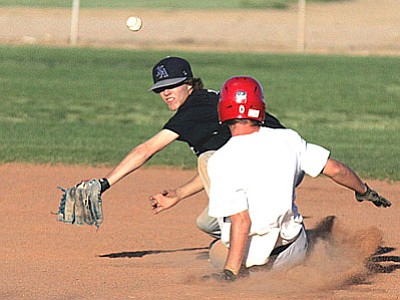 Originally Published: May 8, 2012 6:01 a.m.
The Kingman Academy Black baseball team will take its first step toward defending its state title against West Phoenix at 5:30 p.m. today at Southside Park.
Black (9-1) enters the 3A Charter Athletic Association Tournament as the No. 1 seed, leapfrogging both KAHS Blue and EVAC after beating both teams two weeks ago.
"They earned it, they are playing really well," KAHS assistant coach Tim Pena said of Black's seed. "They put the ball in play, they're solid on defense and their pitching is good."
Tarik Skubal has led Black's pitching staff, with an ERA of 0.72 while recording 45 strikeouts. Austin Tomlinson, Aaron Hurt and Quinn Garcia have all contributed on the mound.
"Tarik is throwing good, and we have a lot of guys in the bullpen that we have a lot of confidence in," Pena said. "We are pretty fortunate in that aspect. We are not going to miss a beat."
At the plate, Tomlinson and Westin McCord lead the Tigers. They have been the spark plugs for KAHS, getting on base and setting the table for the middle of the order.
Tomlinson has an on base percentage of .563, generating 14 hits, driving in 13 and scoring 18 times, while McCord has an OBP of .531 and 12 hits, including five extra-base hits, while driving in five and scoring 14 times.
"I hate to put pressure on Westin, but when he comes out and he starts it off, it starts rolling," Pena said. "Once they get that top of the order on, they can steal bases and they put a lot of pressure on the defenses. We like to push the issues where we like to score them on a routine single. We want to test the arms against our speed."
Black's win over Blue on April 24 evened the season series, and if Black beats Blue in the championship game on Saturday, it will even the overall season series at 3-3.
"This is the fun time of the year, especially for the kids," Pena said. "They know that this is what they have been working for the last three months. It's all about getting your reps in and keeping focused and taking care of business."