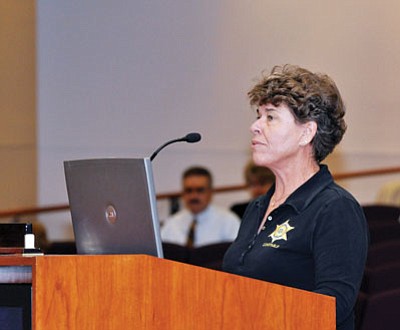 Originally Published: May 9, 2012 6:01 a.m.
KINGMAN - Cerbat Constable Jean Bishop is once again receiving compensation for her travel expenses.
The Board of Supervisors approved a transfer of $1,550 to Bishop's budget for mileage reimbursement.
Bishop petitioned the Board for additional mileage funds in April after transferring all of the money she could out of her other funds to cover travel expenses. Her request fell flat after none of the Board members made a motion to deny or approve additional funding.
The item returned to the Board's agenda and was approved Monday, but not without a stern word from County Finance Director John Timko.
He pointed out that Bishop had a decline in the amount of revenues she was taking in and an increase in expenses in the last year, while the Kingman Constable had seen an increase in revenues and a decrease in expenses.
The county did want to make sure that departments were adequately funded to do their jobs, but heads of those departments also needed to work within their budgets, Timko said.
Bishop pointed out that she has the largest constable district in the county and that it is very hard to determine where her next request for service might send her.
Resident Phyllis Anderson said she hoped the Board would grant Bishop the funds. She pointed out that there was a "very nice Ford Expedition with county license plates in the parking lot" that could be traded in for a more economic vehicle that Bishop could use.
Board Chairman Buster Johnson drives a black Ford Expedition.
The Board unanimously approved transferring the funds to Bishop's department.