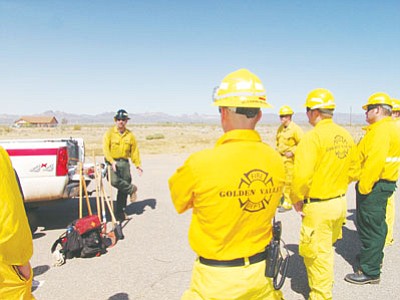 Originally Published: May 9, 2012 6:01 a.m.
GOLDEN VALLEY - Members of the Golden Valley Firefighter Wildland Fire Team have been attending a continuing education class at the new Golden Valley Fire District's Public Safety Training Center in preparation of the summer season.
Captain Dave Martin, who manages the program, said the training is a refresher course for experienced Wildland firefighters along with preparation for new members who are learning about Wildland fire behavior, weather patterns, tree falling, firefighter safety and how topography affects the speed which fire travels and predicable directions based on weather conditions.
Assistant Chief Ted Martin emphasized the importance of pre-season fire training that benefits the firefighters and the safety of the citizens. Martin reminded homeowners of the importance of clearing a "defensible space" from combustible debris around your home of at least 30-feet in all directions to significantly reduce the ability of a wild fire from reaching your home.