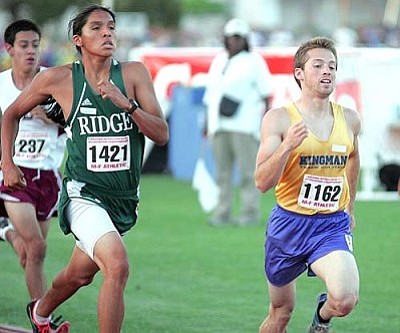 Originally Published: May 13, 2012 6 a.m.
MESA - It took 48 hours, but Kingman High's David Haun and Paige Cardiff finally ran their races Friday at the Division I State Track meet at Mesa Community College.
Haun finished 11th in the boys 800-meters with a time of 1 minute, 58 seconds, 5.96 seconds behind first place's Bernie Montoya of Yuma Cibola.
Cardiff finished 21st in the 3200 with a time of 11:56.56. Phoenix Xavier's Sarah Fakler placed first with a time of 10:33.45 while teammate Laura Orlie finished right behind her with a time of 10:42.42.
Both events were originally scheduled for Wednesday, but were postponed due to a severe thunderstorm that hit the Phoenix metro area late that afternoon.
"I was a lot more ready on Wednesday then I was tonight," Haun said. "I was prepared through practices and I felt like I was ready."
Haun, a senior, entered the meet with a qualified time of 1:57.26 and had hoped for more in one of his final events as a Bulldog.
"I'm not pleased at all," he said. "I wanted to at least set my own record."
"I don't think it helped in having it changed," KHS acting head coach Rob York said of the schedule change. "I think coming down for two days in a row was a little rough on us and I think it did have an effect."
KHS athletes continued to compete in the state track meet on Saturday, with athletes in the shot put, boys 4x800, 400 dash, 300 hurdles as well as the girls 800 and 1600.