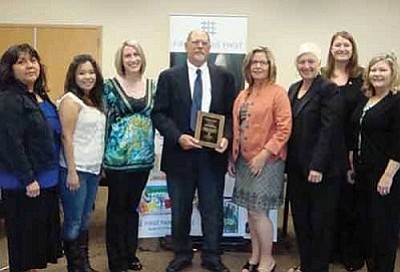 Originally Published: May 14, 2012 6:01 a.m.
It was wonderful to see the Honorable Richard Weiss receive the Champion for Young Children Award presented by the First Things First La Paz/Mohave Regional Partnership Council last week. He so richly deserves recognition and thanks for his tireless efforts to improve the lives of young children who've been abused and neglected.
Many people don't realize that infants are the largest group of children to enter, remain and re-enter the child welfare system and they are at the greatest risk for compromised development. Although the developmental impact of child abuse and neglect is greatest among the very young, the early years also present an unparalleled window of opportunity to intervene effectively and change the odds for these babies and toddlers.
Judge Weiss understands the importance of reaching vulnerable children early and has been delivering this message with passion and enthusiasm month after month, year after year, in pursuit of a better and more responsive child welfare system to meet their needs. Through his advocacy and leadership we now have an Infant Toddler Mental Health Court Team in Mohave County that is well established and recognized statewide as a model for other counties.
On behalf of the La Paz/Mohave Regional Partnership Council, I would like to congratulate and publicly thank the Honorable Richard Weiss for championing this important cause.
Nancy Mongeau, Vice Chair
La Paz/Mohave Regional Partnership Council
Bullhead City