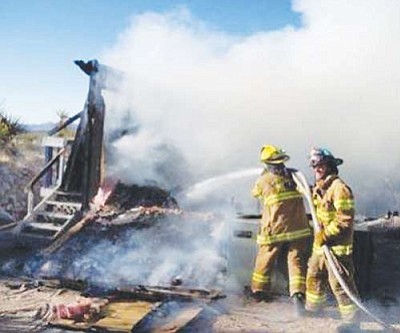 Originally Published: May 20, 2012 6:01 a.m.
KINGMAN - The Lake Mohave Ranchos Fire Department wants the public to meet their emergency "front line" during a number of events starting Monday as part of National Emergency Medical Services week.
The department will host a meet and greet from 10 a.m. to 3 p.m. Monday through Thursday at the main station at 16126 Pierce Ferry Road. Residents can fill up on barbecue while swapping stories with the fire and EMS personnel, said Gracie Blair, information officer for the district.
Tri-state CareFlight officials will be on hand Tuesday to show off a helicopter and to dedicate the new landing pad at Station 41 at 11 a.m.
Lake Mohave Ranchos is a combination volunteer/paid fire department that covers a 144-acre area around Dolan Springs. The department also holds a Certificate of Necessity, granting it authority over medical calls spanning a 2,000-square mile area along U.S. 93 from the Hoover Dam to mile marker 50, at which point River Medical picks up coverage.
Lake Mohave Ranchos also provides ambulance service to Grand Canyon West and Meadview.
Last month, the department responded to 58 medical calls, 18 fire calls, six car accidents, 44 public assists and two requests from other fire departments for mutual aid.
The department has seen an increase in recent years of patients requiring air transport to the hospital. The department had a landing pad before, but the costs of the new one are being covered by Tri-state CareFlight President Dr. Blake Stamper and his wife, Corin.