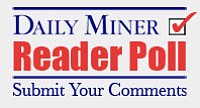 Originally Published: May 21, 2012 11:45 a.m.
Due to a new state law, Kingman municipal elections for City Council and other local matters have been moved to match Arizona and federal elections in the summer (primary) and fall (general).
• I prefer Kingman having it's own special dates for elections for Council and local issues.
• Lining up elections so they all happen at the same time is better for Kingman because more voters will participate in choosing city leadership.
• The state has no business telling Kingman when to hold municipal elections.
Feel free to leave comments below. Poll is located on the home page, lower right.