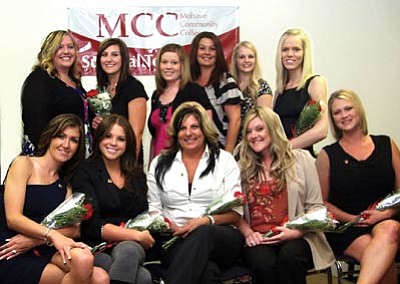 Originally Published: May 27, 2012 6:01 a.m.
Twelve soon-to-be graduates of the surgical technology program at Mohave Community College were honored during a special pinning ceremony May 8 at the Lake Havasu City campus. Nearly 100 people, including family, friends, and college staff, attended the event.
The students, who also participated in the 2012 commencement ceremony in Fort Mohave May 11, have earned the Associate of Applied Science degree in Surgical Technology after spending one year primarily learning in the classroom, and their second year learning hands-on at one of a handful of clinical sites in Mohave County.
The program is also designed to prepare students for the exam given by the National Board for Surgical Technology.
This year's honorees include Miranda Allie, Adrianna Cornelison, Selena Donaldson, Caitlin Hansen, Kendi McKinney, Kelley Ming, Matthew Rosman, Amy Simmonds, Michelle Valandingham, Samantha Weyermiller, Megan Wilkins and Jennifer Young.
A few weeks ago, Dr. Robert Goodrich, program director, announced that the surgical technology program would expand to accept more students this the fall. A few openings remain for interested students.
For more information about the surgical technology program at Mohave Community College, contact Goodrich at rgoodrich@mohave.edu or call (928) 505-3374.
Program specifics can be found at www.mohave.edu in the online catalog under Programs of Study.