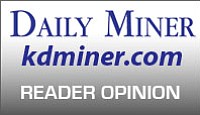 Originally Published: November 6, 2012 6:01 a.m.
Recently on the south side of Estrella we have been plagued with cows. Several have ravished my yard, eating anything that grows. I have sustained several hundred dollars in damage. When I call MCSO to ask for assistance I have been told it's "Open Range" and I have no rights. If I don't want someone else's livestock to eat my plants I need to totally fence my yard. I don't pay taxes to feed a cow I don't get to eat! This is wrong.
I consider myself lucky I have just lost plants. Recently one of my neighbors hit one with his truck. I am sure MCSO knew who the owner was and notified the rancher of the loss. I guess what really irritates me is I also have called the brand inspector and I never get a call back from them either. Whose responsibility is this?
If my horse got out and ate the neighbor's hay I would never allow him to roam, endanger his life and damage others' property. I guess we have all forgotten what it takes to be a good neighbor. Having unwelcome cow visits is not my idea of being a good neighbor.
Wendy Carlisle
Golden Valley
More like this story