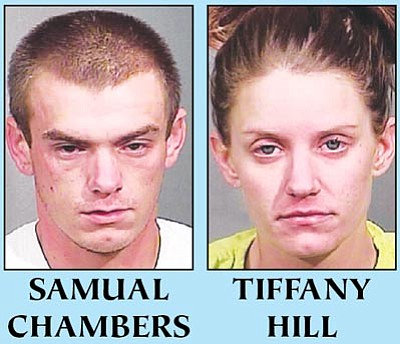 Originally Published: November 8, 2012 6:01 a.m.
A man found tied up inside his home Tuesday said he was attacked by a jealous boyfriend who thought the victim was having an affair with his girlfriend.
The 50-year-old man was discovered inside his home in the 3800 block of John L Avenue around 4:30 p.m. Tuesday by a neighbor who heard his cries for help, according to Mohave County Sheriff's spokeswoman Trish Carter.
Two people have been charged with kidnapping and assault in the incident, including the man's roommate, Tiffany Marie Hill, 28, and her boyfriend, Samual G Chambers IV, 30. Authorities said they were arrested after returning to the scene of the crime with the victim's car.
The assault reportedly began Monday night and stretched into Tuesday after Chambers went to the home to confront the victim. Chambers believed that the man was having sex with Hill, Carter said.
The man said he was restrained with zip ties and beaten with a retractable baton for several hours. He complained during the assault that the zip ties were too tight, so they were replaced with tape. The victim was also gagged with a rag, Carter said.
The assault continued until Chambers and Hill left in the victim's car around 9 a.m. Tuesday. The man said he lost consciousness before waking, freeing himself of the gag and calling out for help until he was found more than seven hours after the suspects had left.
The man was treated for a large laceration to his head and a fractured arm.
Deputies put out a bulletin on the victim's car but didn't have to look long after the suspects returned to the home in the car around 8 p.m.
Deputies established a perimeter around the home before entering the home and finding Chambers and Hill hiding inside, Carter said.
Both were booked into the Mohave County for felony kidnapping and aggravated assault with a deadly weapon. Both Hill and Chambers also had multiple outstanding warrants.