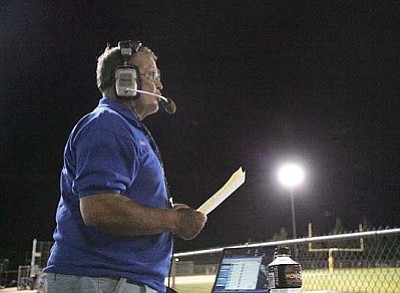 Originally Published: November 9, 2012 6 a.m.
KINGMAN - When Harry Hoyler broadcasts Kingman Academy's 4A Charter Athletic Association playoff game from Phoenix Christian High tonight, he may feel like he's gone from the outhouse to the penthouse.
Hoyler has been broadcasting all Tigers football games this year at www.KKAYsports.com and has had to endure some interesting broadcasting locations, including the athletic track at American Leadership when the temperature was around 110.
His mainstay is the back of the 1988 Ford F-150 pick-up he uses to broadcast games from the Tigers' home field at Southside park.
"It's quite a pick-up and makes a great pressbox. Little shy on heating, though," Hoyler said.
Tonight he'll be broadcasting from an enclosed pressbox instead of hanging out in the elements.
Hoyler's broadcasts haven't gone unnoticed by the team and school officials.
"Harry has been a trooper. He goes to the away games and I'm real excited about it," said KAHS athletic director Shawn Byrne, who was contacted by a parent about Hoyler and then met with him.
"Pretty much every field he goes to he doesn't know. He's going in blind, but he's been able to do it every time. The worst place he's been broadcasting and what he has to broadcast out of is probably our place."
Hoyler has been getting an average of 450 to 560 Internet hits during the games, with some of the hits coming from outside of Kingman. He gives parents such as Ethan Tibbett's dad, Travis, an opportunity listen to his son's games while he is serving his country in Pennsylvania.
"That is awesome," said KAHS interim coach Wally Mueller. "My mother and dad live in central Texas and they get to listen to the ballgames.
"I haven't got a chance to hear one of his radio broadcasts because I'm on the sidelines, but everyone I talked to says he's done a fantastic job of announcing and they can almost see the game taking place."
Hoyler has been on the radio since 1976 after a drunk driver ended his law enforcement career with the Glendale Police Department. After the accident, he went back to school at Grand Canyon University in Phoenix to rediscover his first love - radio.
While in Phoenix, he worked at KRUX and KTAR. In 2008, he and his wife, Bridget, moved to Kingman in order to be closer to their kids and grandkids, who live in the Las Vegas and Phoenix areas.
But before moving to Kingman, Hoyler worked for a radio station just outside of Baton Rouge in Donaldsonville, La., and played a pivotal communication role in the aftermath of Hurricane Katrina in 2005.
"Katrina was my first experience of riding out a hurricane and being on the air. I was on the air for over 80 hours," he said.
Hoyler said they never sustained major damage during the hurricane. The power remained on throughout the storm, and was only disconnected by crews working to restore electricity to other areas.
"We thought it was funny in the aftermath," Hoyler said.
As people fled New Orleans, what normally took 50 minutes to drive was taking five to six hours. Hoyler put up signs along the highway for people to tune into KKAY 1590-AM and helped people look for lost relatives as he stood along the highway interviewing people.
Hoyler still returns to Louisiana twice a year to do maintenance work for the station and he missed the Tigers' first game on Sept. 1 because Hurricane Isaac was approaching New Orleans.
Since then, he's made it to every game and is surprised at his success.
"I've really been amazed because it's been word of mouth, and I think it has worked out," Hoyler said.
Besides football, Hoyler is also looking at broadcasting KAHS basketball, baseball and softball games and would like to include some Kingman High athletics next year.
"We don't have to do just one school. We can do two," Hoyler said.