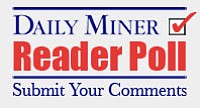 Originally Published: November 9, 2012 10:26 a.m.
The Fiscal Cliff arrives on Jan. 1. On that date last year's temporary 2 percent payroll tax cut expires, certain tax breaks for businesses end, there are shifts in the alternative minimum tax that take a larger bite, the Bush tax cuts for all taxpayers end, and the ObamaCare taxes kick in. At the same time, the spending cuts that are part of the debt ceiling deal of 2011 will begin to go into effect, triggering deep, automatic cuts to over 1,000 government programs, including the defense budget.
Can our government, the one that created this mess in the first place, get us out of this situation without too much damage to our wallets, our economy and our self-defense capabilities?
• No problem
• The solution won't be all that bad
• Life is going to be a bit tougher
• We're toast
Feel free to leave comments below. Poll is located on the home page, lower right.
More like this story