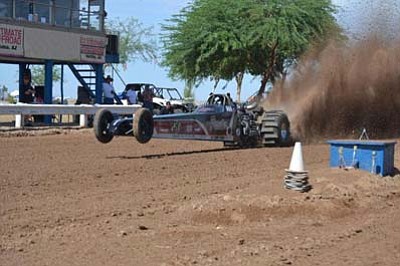 Originally Published: November 12, 2012 6:01 a.m.
Local motor sports fans may finally have a place to call their own. The Mohave County Planning and Zoning Commission will consider a zoning use permit request from the Lingenfelter family for a multi-purpose motor sports event center Wednesday.
The center will be located on 550 acres of land west of Route 66 and just north of Grace Neal Parkway.
"It's been 12 years of ups and downs to get to this point," said Brian Devincenzi, the president of the Route 66 Wings and Wheels organization.
The organization has tried to raise enough money over the years to purchase land and build a permanent race facility for street dragsters, sand drags, monster trucks and BMX bikes, he said.
"We just needed someone with the desire and the land to help us out and that's been the Lingenfelter family," Devincenzi said. "Now we can finally move forward on a permanent facility."
"The new facility will not only provide a new source of income to the community, but also a safe outlet for kids who don't have a passion for sports or band," he said.
"It'll get the street races off the streets. It'll be safer and more cost effective," Devincenzi said. "And maybe some of these kids will find out they want to become mechanics."
The construction of a sand drags racecourse is already in progress for the first races which are slated for this weekend, said John Kirby, the creative care marketing director for the Lingenfelter Center.
The first sand drag races at the site will take place Friday, Saturday and Sunday under a special event permit. Route 66 Wings and Wheels has partnered with Fast Track Racing to put on the show. The gates open at 8 a.m. Friday and Saturday with the test and tune. The elimination races start at 1 p.m. Sunday. The cost to enter is $5 for adults, $2 for children ages 6 to 12 and children under 6 are free.
The track will only be temporary, Kirby said. Exact plans for where everything will go on the property have not been laid out yet.
The Planning and Zoning Commission meets at 10 a.m. Wednesday in the County Administration Building, 700 W. Beale St.