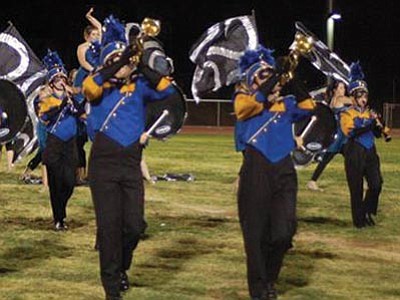 Originally Published: November 14, 2012 6:01 a.m.
The Kingman High Marching Band put the finishing touches on a successful season Saturday by placing sixth at the Arizona Band and Orchestra Directors Association's State Marching Championship.
The strong finish means the band is officially the sixth best in the state in its division, which includes bands with 95 students or less. But 23 seniors currently in the band are graduating this year and it will need to rely on next year's juniors and seniors to help maintain its accustomed success.
"We were the most powerful-sounding band there," said Michael Schreiber, the school's director of bands.
Whereas many marching bands have gravitated toward soft sounds and stylized performances that don't rely on movement, the KHS band is much more traditional, with lots of movement and a booming sound.
"We pride ourselves on playing big," Schreiber said. "We don't try to hold back."
The band's progression continued where it left off last season, when band members marched in the Fiesta Bowl Parade, Schreiber said.
"We progressed much further this year than at any time last year," he said. "The maturity level of the whole group is just outstanding."
Nick Eddington, a senior who plays alto saxophone, is in his third year with the band.
From the outside looking in, last year's performance looked like a successful campaign, but Eddington said that's not really how the band saw it.
"It was disappointing last year," he said. "We didn't make the top 10."
But maybe it was a blessing in disguise. The band falling short of its goal last year caused the younger members to really step up, Eddington said.
Laziness plagued the band last year, he said. But once people saw that success wasn't going to be handed to them, the laziness turned into determination, he said.
"The hard work paid off," Eddington said.
Last season's band was defined by its youth, but this year those younger members became leaders, Schreiber said. It'll be interesting to see how next year works out, with the band set to be infused with a lot of freshmen once again.
David Joe, a senior who served as the drum major for the band, saw the determination, too.
"People were really dedicated this year," said Joe, who's been with the band since he was a freshman. "As a group, we've improved since last year."
He said Schreiber's staff, which is made up Schreiber and six others, deserves some credit. Five of them are volunteers, and they all help run practices and put things together, he said.
The process of putting together next year's KHS marching band won't really start until spring, but once the wheels are in motion they won't stop until the fall or even the winter.
"It's a long, expensive, time-consuming cycle," Schreiber said. But he wouldn't have it any other way.
More like this story