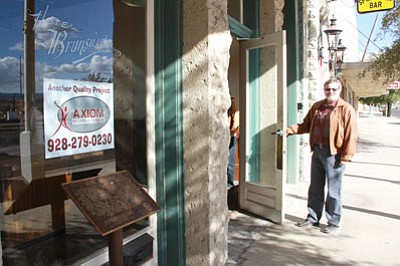 Originally Published: November 16, 2012 6:01 a.m.
KINGMAN - A group of people committed to developing downtown Kingman's potential as a Route 66 and historical attraction is working together on projects to beautify the area, including renovations to the Hotel Brunswick and two adjacent buildings in downtown Kingman and new murals on downtown windows.
Hotel Brunswick on Andy Devine Avenue has long been an important landmark in downtown Kingman. The adjacent building, known as Old Trails Garage, has seen many uses, including feed store and vehicle repair shop.
Swiss businessman Werner Fleischmann purchased both buildings earlier this year and is committed to restoring them to their former glory.
"I want to make it more attractive, (bring) more life," he said
The buildings are being restored to their appearance in the early 1900s while also being modernized for today's needs. The Miner recently featured a story about some of the unusual things that Axiom Remodeling found while demolishing small portions of the old buildings, including movie posters, old newspapers and empty tins and bottles.
On Nov. 10, the hotel held an open house to find managers and staff for running a planned bakery, bar and restaurant.
Elmer and Craig Graves own the building to the west.
In a separate but related project, Route 66 historian Jim Hinckley, Axiom Remodeling and the Kingman Powerhouse Visitor Center are working on a multi-stage beautification project on the Graves' building featuring murals painted by local artist Sandy Rusinko.
The Kingman Downtown Merchants' Association recently joined the group. All are seeking to develop more of downtown Kingman's potential.
There are four windows, all of which will feature a shadowbox-style mural when done. Currently one window's mural (which costs $400) has been completed with funding through the city of Kingman Visitor Center.
The Downtown Merchants' Association recently committed to funding the art for the second window. Donations are being sought to help complete the other two.
"To ensure a period look for the murals, Kevin Morgan of Axiom Remodeling donated the labor as well as materials from the Brunswick Hotel renovation for the construction and installation of the inserts," says a statement from the Kingman Powerhouse Visitor Center.
"The inserts for the rest of the windows are complete and fundraising for the cost of the murals remains the last hurdle in the completion of this stage of the project ... This will transform the garage owned by Elmer and Craig Graves into a foundational cornerstone for a downtown beautification endeavor."
The Powerhouse continues: "As envisioned, the multi-faceted project will include mural boards to protect windows and beautify currently empty properties in the historic district, the creation of the world's largest Route 66 museum to foster foot traffic in the area, and various landscaping projects."
For more information, contact Kevin Morgan at (928) 279-0230 or project organizer Jim Hinckley at (928) 530-7899.