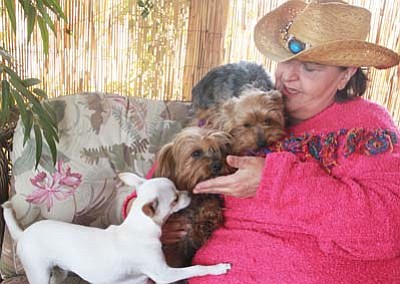 Originally Published: November 18, 2012 6:01 a.m.
Susan Piccinino just couldn't hold on.
She had already watched as one of her teacup Yorkies was dragged off into a neighbor's yard by an overly aggressive Great Dane. Now she struggled with a second dog that held another of her Yorkies in its jaws.
She pulled one way, but the Great Dane pulled back harder. The Yorkie's screams were unbearable, she said, as the 80-plus pound Great Dane maintained its grip on the tiny dog.
The Great Dane won.
The death of the two Yorkies in July resulted in a court case that concluded in Kingman Justice Court Wednesday after the owner of the Great Danes was ordered to pay $15,000 in restitution.
"Can you pay any of that today?" Judge John Taylor sympathetically asked of the neighbor, Tiffaney Adkins.
"I won't be able to pay it at all," the 22-year-old quietly replied while struggling to hold back tears.
Piccinino said that despite the large judgment, her court victory felt hollow.
"I would prefer to have my dogs back," she said.
Piccinino said the situation started at the beginning of the year when Adkins brought home a Great Dane that gave birth to several puppies. Piccinino accused Adkins of never being home and said the puppies were allowed to roam the neighborhood for months while the mother was tethered in the yard.
That fueled the mother's aggressiveness, Piccinino said, which she then passed on to her puppies.
"The mother, of course, was protective of her pups, as any mother would be," Piccinino said.
Piccinino lives next door to Adkins on Eagle Drive in north Kingman. She is on a fixed income and used the Yorkies as breeders to supplement her income. But the dogs were more than a business venture for her, she said. They helped fill the void she felt after the sudden death of her 21-year-old son several years ago.
"They were my family," she said. "They were like my children."
The addition and treatment of the Great Danes sparked a feud between the neighbors that continued for several months until only two of the litter remained.
Piccinino said that on the morning of July 11, she let her dogs out at the same time she did every morning.
"That was a mistake," Piccinino said. "Those (Great Danes) knew our routine."
Piccinino's 5-year-old Yorkie, Peanut, and Peanut's 4-year-old daughter, Honey Gurl, scrambled under Piccinino's feet before eagerly bolting off the patio and into the backyard for their morning bathroom break.
Piccinino couldn't see from where she was standing that the Great Danes had dug a large hole under the fence and were waiting in her yard.
"I heard them screaming and ran over there," she said.
By the time Piccinino got to the edge of the patio, one of the Great Danes had already snatched Honey Gurl and taken her back into Adkins' yard. Peanut, at five pounds, mounted her best defense to save her daughter, but was no match for the overpowering Great Dane.
Piccinino grabbed a shovel and tried to fight off the dog that now had Peanut is its mouth by the scruff of her neck. She grabbed the dog's jaw and they got into a tug of war over Peanut.
"I had her but he would not let go," Piccinino said. "He was pulling my arms under the fence and she was screaming bloody murder."
She eventually let go and watched as the Great Danes finished their attack.
"I have never seen a domestic dog go so wild as to eat another domestic dog," she said.
Piccinino then barricaded herself and her other dogs inside her home after calling 911. She said an animal control officer arrived 45 minutes later and took control of the dogs. One was later destroyed and the other was given to a family member, Adkins said in court.
The Yorkies' deaths intensified the feud between the two neighbors and Piccinino ultimately took out a restraining order against Adkins. Piccinino said she was emotionally consumed by what happened - and she wasn't the only one.
One of her other dogs, a male Yorkie named Champ, dropped down to two pounds as he mourned the loss of his playmates.
"Those were his girls," Piccinino said.
She said she was reminded of what happened every time she saw the bloodstains, which remained in Adkins' backyard until the rain washed them away one evening.
Adkins pleaded guilty to a misdemeanor charge of liability after initially being cited for not having a license for either dog involved in the attack. Under terms of a plea agreement, she was guaranteed no jail time, but was ordered to pay restitution to Piccinino for her loss, the amount of which was to be determined by the judge during a hearing Wednesday.
At that hearing, Piccinino asserted that she was owed the value of her two Yorkies as well as the value of the offspring from future litters. Piccinino said she does not breed her animals after the age of 8, meaning the Peanut and Honey Gurl would have had one to two breeding cycles left.
She presented the court with listings off the Internet showing the price of similar teacup Yorkies, with some selling for up to $8,000.
Judge Taylor agreed with Piccinino's claim and ordered Adkins to pay a total of $15,280.
The amount includes $2,500 for each of the dogs that were killed, $700 for repairs to a fence damaged by the Great Danes, $9,200 for the Yorkies' future litters and $380 for mileage to transport the animals to buyers.
Adkins, who testified briefly at the hearing, appeared stunned at the amount, which the judge said could not be discharged through bankruptcy. Adkins' attorney mouthed an apology before Tiffaney rushed out of the courtroom with her boyfriend. She could not be reached for comment for this article.
Piccinino said she doubts she'll ever receive the full amount she's owed but said she hopes Adkins thinks about her dead Yorkies every time she makes a monthly payment.
She applauds efforts like Arizona's Aggressive Dog Owner Responsibility Law, which was enacted last year and holds owners criminally liable for damages caused by their animals. But she said it doesn't go far enough to ensure owners are held responsible for the actions of their dogs. She said she doesn't condemn aggressive dogs, but rather the owner for failing to properly care for her animals.
She sees her case as an example of what happens when an animal owner neglects their dogs and allows them to become a threat to neighbors and other pets.
"I still have nightmares about that day. But I am glad to have sacrificed my dogs, because if it had been a child ..." she said, without completing her thought.
More like this story